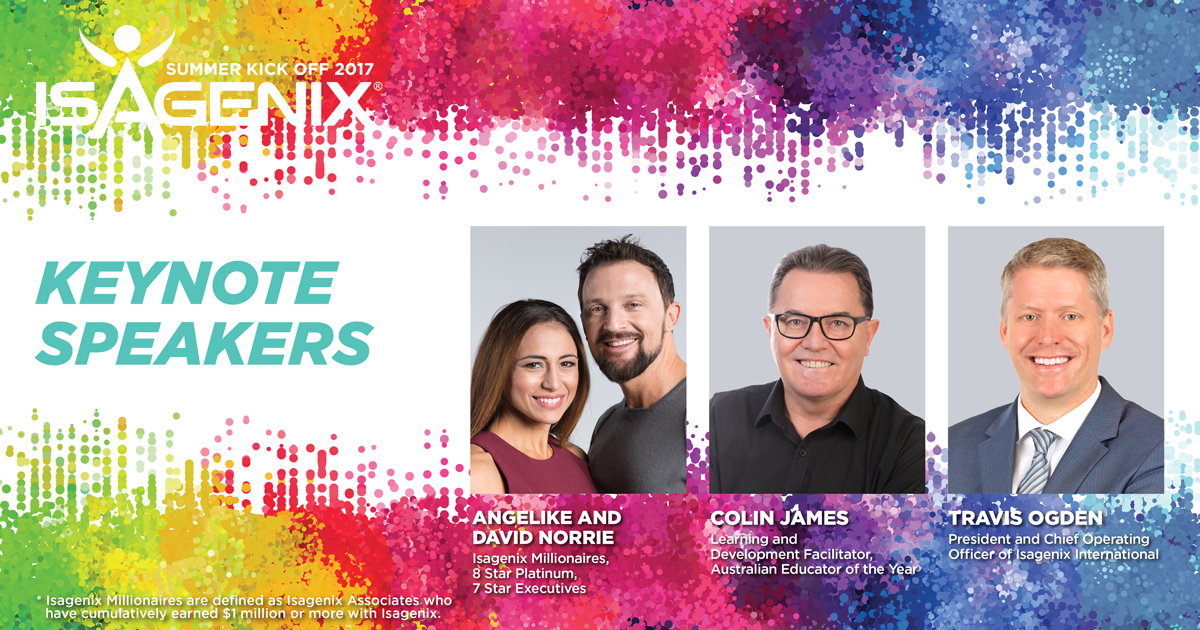 Have you got your tickets to Summer Kick Off yet? We know it's only autumn but with awesome keynote speakers lined up for our annual Summer Kick Off event, we can't help but look forward to the warmer months.
Summer Kick Off is the perfect opportunity to propel your business before summer sets in. With three jam-packed days featuring new product launches, business training from Top Leaders and your chance to try and buy products, merchandise and sales tools, you'll want you and your team in attendance.
Want to know what you're in for at Summer Kick Off? Well keep an eye out for all the announcements over the coming months. To get things started, here's a sneak peek of our incredible keynote speakers…
Angelike and David Norrie
Isagenix Millionaires*
8 Star Platinum, 7 Star Executives
Prior to Isagenix, Angelike and David were both successful in their individual corporate careers. David was a journalist covering the NFL and producing respected relationship and health columns. Angelike was a five-time cover model, martial arts champion and fitness competitor also working 60-hour workweeks as a sales executive. It's no lie that both Angelike and David were busy climbing the corporate ladder.
With a passion for the health and wellness of women, Angelike was introduced to Isagenix and it wasn't long before she took control of her future, linking arms with Isagenix and leaving behind the corporate world to pursue her true passion. Not long after that she also met her future husband, David, being the feature for one of his columns.
The couple discovered their shared passion for health, nutrition and entrepreneurship and it wasn't long before David joined Angelike in her Isagenix business. Together, the pair are dedicated to giving-back, and are true leaders, having shared the Isagenix opportunity with thousands, achieving Isagenix Millionaire* status and helping others achieve their health and wealth goals.
Colin James
Learning and Development Facilitator
Australian Educator of the Year
With over 30 years' experience as an Educator, Speaker, Facilitator and Trainer, Colin James has made an outstanding contribution to the field of learning and development.
With a background in broadcasting and marketing, and having spent his lifetime exploring cultures, religions, philosophies and human psychology, Colin has developed engaging insights and dynamic leadership knowledge that will challenge and provoke Associates while imparting practical depth and workable knowledge.
The 2008 Australian Educator of the Year Award recipient has worked throughout Australasia, Asia Pacific, Europe and the USA and Associates are sure to leave Summer Kick Off with useful tools that will empower them and help take their Isagenix business to the next level.
Travis Ogden
President and Chief Operating Officer of Isagenix
Travis Ogden joined Isagenix in 2016 as President and Chief Operating Officer. Under his leadership, the Company has pursued a growth strategy aimed at positioning Isagenix as a global leader in the health and wellness industry. Travis possesses both the intense professional will to achieve ambitious goals and the personal humility that inspires the entire Isagenix team to work tirelessly and collectively for the common good. He understands the importance of working with leaders to help them maximise the Compensation Plan and reach their sales goals.
Prior to joining Isagenix, Travis served as Chief Operating Officer for a leading direct sales company, where he spearheaded the company's global growth, ultimately helping the organisation to surpass $1 billion in annual sales.
Travis is a devoted husband and father of five children. He and his wife, Holly, truly embody the Isagenix mission and values. He shares our deeply held commitment to helping product users all across the globe improve their personal health, while identifying entrepreneurs who are looking for economic opportunity.
Excited? You should be! Our keynote speakers are ready to share with you their invaluable knowledge and experience to help fast-track your business. And this isn't all we have in store. Keep an eye out on ANZ.IsaFYI.com and ANZ.IsagenixEvents.com for more exciting SKO announcements over the coming months.
This is set to be our biggest Summer Kick Off yet and you won't want to miss the action. Bring your team along and immerse yourself in the in the Isagenix culture and prepare to leave the event inspired to take your business to new heights. Head to your Back Office and secure your ticket before they're all gone!