The Celebration ANZ showstopper – the IsaBody Challenge® Grand Prize Winner announcement – delivered another incredible highlight in 2020. Both our Australian and New Zealand Grand Prize Winners were met with standing ovations as Jim, Kathy and Erik presented each winner with their check for $15,000.
Australia's Grand Prize Winner goes to
Janelle Enlund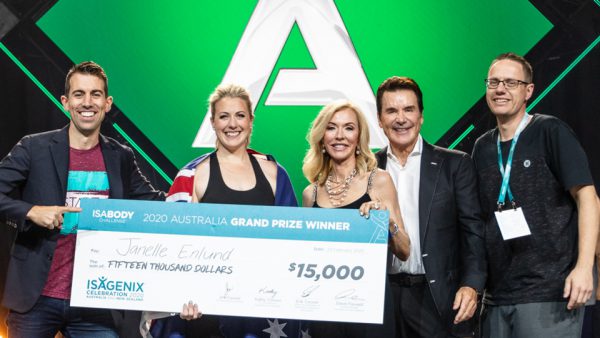 100 Pound Club member Janelle showed no signs of slowing down on her unbelievable weight loss journey. The inspirational mum lost another 12.4 kg in her 2019 Round 1 Challenge, bringing her total weight loss to 62 kg.
Quickly brought to tears, Janelle expressed her appreciation of Isagenix and her fellow IsaBody Challenge Finalists. "If Jim and Kathy hadn't started this company, I wouldn't be standing here as an IsaBody Grand Prize Winner surrounded by these amazing humans."
While she's received incredible support from her kids and family, she's also been well supported within the IsaBody Challenge and 100 Pound Club communities.
"Every single person in this room has helped me get to this point, and I can't thank you all enough for everything you've done for me," she said. "Every single one of you can be here; this could be you next year if you believe this could be you.
New Zealand's Grand Prize Winner is
Tori Newing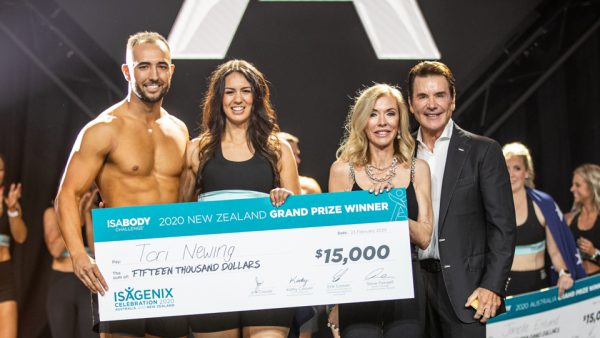 Stuck in a toxic routine of working two hospitality jobs to support her two kids, Tori knew she needed to change to better her health and improve the home environment for her children.
After attending her first Celebration ANZ event in 2019, Tori knew Isagenix® and the IsaBody Challenge was just the change she needed.
"I remember sitting in those seats watching the finalists like Thomas and Ruka, and I was inspired," Tori said. "Right then I thought I have to sign up and give this a good go because next year I'm going to be on that stage."
Like any incredible transformation, Tori certainly wasn't alone on her journey to becoming an IsaBody Grand Prize Winner.
"Honestly, I wouldn't be up here if it wasn't for the support from everyone in this room and back home," she said. "It's such an amazing community, especially my husband, the man with the abs."
Want the chance to become next year's IsaBody Challenge Grand Prize Winner? Sign up for a challenge today in your Back Office or within the IsaLife™ app!