It's fair to say that for Lee-Ann Hill, this last year hasn't gone according to plan. In April 2018, Lee-Ann lost her loving grandmother who she'd been caring for. Still coming to terms with the loss of a close relative, Lee-Ann was innocently involved in a car accident just one month later.
After a few physio sessions, she was finally ready to get back on track with her exercise, until she discovered that she required emergency surgery to repair a hernia.
Those incidents would be enough for most people to put their health goals to one side. But things went from bad to worse for the mother of three when Lee-Ann's partner lost his grandmother and cousin just days after her accident.
"It's fair to say the last year and a bit has been pretty crap," Lee-Ann admits.
Despite caring for her nan in hospice every day and recuperating from both her accident and operation, the one thing that stayed consistent throughout was her Isagenix® nutrition.
"When my nan wasn't eating, I would give her an IsaLean™ Shake, which we had together every morning," she says. "She kept me pretty focused because she knew how hard I worked and always reminded me never to give up."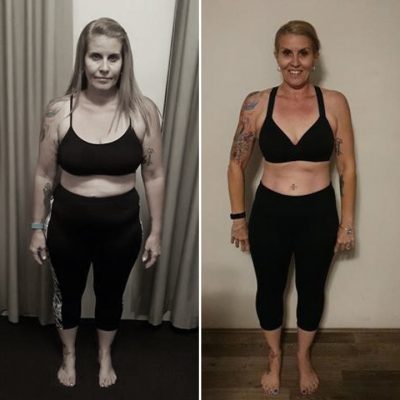 Busy juggling all of life's challenges at once, along with raising a three-year-old daughter, Lee-Ann  sacrificed her healthy exercise habits. But even throughout the tumultuous year, Lee-Ann followed her nan's advice and refused to give up on her health.
"Regardless of all the chaos I've had to deal with in the last 18 months, I'm now the healthiest I've been in my entire life," she says.
After completing her seventh consecutive IsaBody Challenge®, Lee-Ann follows Start, Complete, Repeat to help her stay on track, stay motivated and reach her goals.
"In the next three years, before I turn 50, I want to be up on that stage as an IsaBody Finalist," she affirms. "My goal is to show people over forty that there's no reason why this system can't work for them."
Isagenix has not only to help Lee-Ann lose 20 kg, it's also helped her 22-year-old son Jake and 25-year-old daughter Kaylia achieve incredible transformations of their own. "It was pretty inspiring to have both my kids come and ask me what I'd been doing with Isagenix."
From refusing to do Cleanse Days in her very first Challenge back in February 2017, Lee-Ann is now known as the 'Cleanse Queen' in her team's online group. Not only is she active with her own team, she also openly shows her support in the IsaBody Challenge ANZ community and takes any chance she can to meet her online friends at Isagenix events.