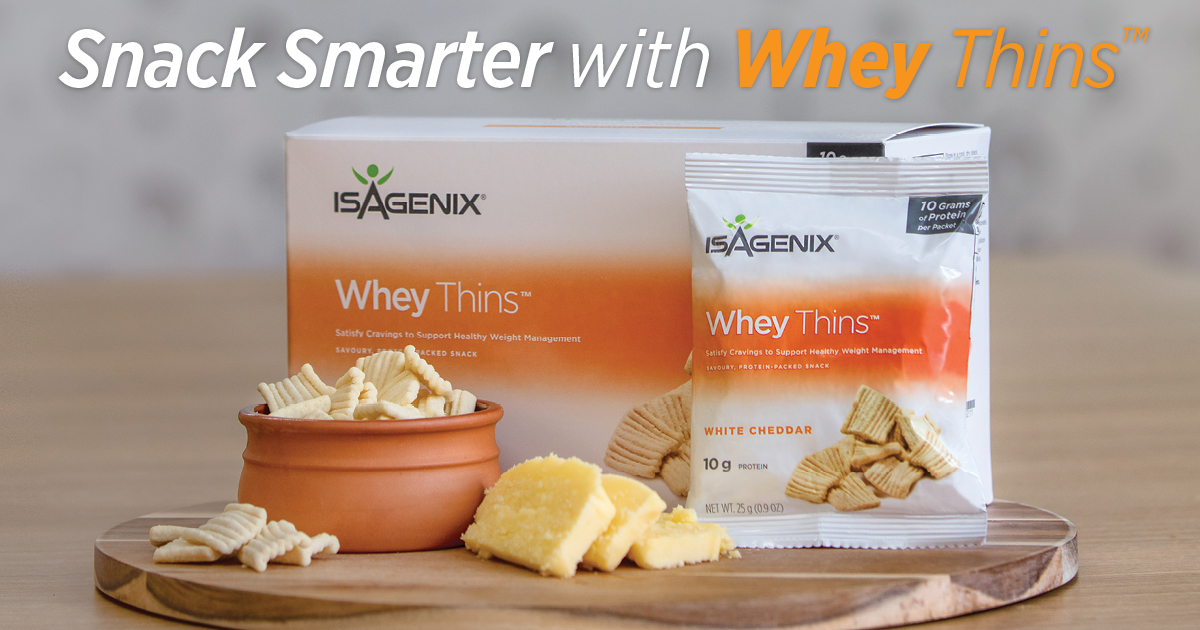 By now you've probably heard the news about our latest product launch announced at Celebration in Brisbane earlier last month – the delicious and savoury Whey Thins™ in Cheddar flavour. New to the ANZ market, the protein-packed snacks offer a delicious way to support your healthy lifestyle and weight-management journey.
These cheesy, crunchy snacks pack a serious protein punch, with 10 grams of high-quality undernatured protein and only 3 grams of fat per serve to help keep hunger at bay. Even better, Whey Thins are gluten-free and at only 418 kJ per individual pack, these savoury snacks are approved for Cleanse Days.
Snacking the Right 'Whey'
Choosing the right snacks can make or break seeing all those hard-earned results which is why we want to ensure we set you up with the right tools to snack smarter. With an average of 18 chips per bag, Whey Thins can be used as an effective tool. When your body needs a little nourishment, reach for Whey Thins. You can even spread them out throughout the day, instead of consuming the entire bag in one sitting. This would allow you to enjoy the savoury goodness throughout your Cleanse Day.
The Purpose of Cleanse Days
Cleanse Days are a foundation of the Isagenix System. Cleanse Days combine intermittent fasting with nutritional support for the body, supplemented by Cleanse for Life®.
With the recent inclusion of Whey Thins as an approved Cleanse Day snack, Isagenix is increasing options to support Customers on their health journeys. Giving our Customers nutritious options is something we strive for because we understand that not one person cleanses like the other. Remember to reach for Whey Thins 'in substitution for' and not 'in addition to' your previous or current Cleanse Day approved snack.
If you're more inclined to want to snack on something sweet, having one or two IsaDelight™ chocolates might be a better choice for managing cravings throughout the day. You could also mix and match approved Cleanse Day snacks. For example, you could try one IsaDelight chocolate in the morning, a quarter packet of Whey Thins around noon, another quarter packet in the early afternoon and two Isagenix Snacks™ over the rest of the Cleanse Day. If you feel like only having half a bag won't cut it for you, feel free to have a full one but remember to cut your snacking elsewhere.
As long as your snacking choices don't lead you to over-consume total snacks during your Cleanse Day, your results shouldn't be affected. Customising Cleanse Day snacks should be whatever's right for you. An original Cleanse Day protocol using only Isagenix Snacks and IsaDelights might work for some while having different options including Whey Thins will work best for others.
There's multiple ways to snack on a Cleanse Day and you might find that you like switching or mixing it up from time to time.
Want to get your hands on Whey Thins in preparation for your next Cleanse Day? Visit your Back Office and add Whey Thins to your next Subscription or one-time order today!