Creamy potato salad, juicy hamburgers, and buttered corn on the cob are some of the barbecue staples that always find their way on the menu. But, all that yummy food can add a few extra rolls (and not the good kind) if you're not careful.
Luckily, you can enjoy delicious food, soak up the sun with your family and friends, and feel confident rocking your favorite swimsuit. Our favorite healthy barbecue recipes taste so good you won't feel like you're missing out. Serve these dishes at your Memorial Day cookout, and you'll not only wow your guests, but you'll stay on track with your weight loss goals.
The countdown to summer is on. Enjoy!
Savory Potato Salad Recipe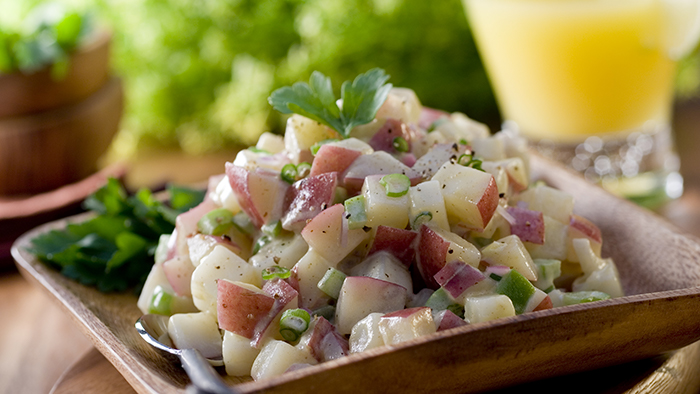 This crowd-pleaser is light and delicious yet satisfying.
Ingredients
900g small red potatoes, halved
1/4 cup extra-virgin olive oil
2 tbsp fresh lemon juice
1 tsp black pepper
2 tsp anchovy paste
3/4 tsp kosher salt
1 garlic clove, grated
1/3 cup red onion slivered
1/3 cup fresh parsley chopped
Directions
Place potatoes in a Dutch oven and cover with water. Bring to a boil. Reduce heat and simmer 12 minutes or until tender. Drain. Combine olive oil, lemon juice, pepper, anchovy paste, salt, and garlic in a large bowl. Stir in potatoes, onion, and parsley.
Nutritional Information
214 calories; 9.3 g fat; 1.3 g saturated fat; 4 g protein; 28 g carbohydrate; 2 g fiber; 6 mg cholesterol; 2 mg iron; 356 mg sodium; 9 mg calcium.
(Recipe from CookingLight.)
Black Bean Burgers Recipe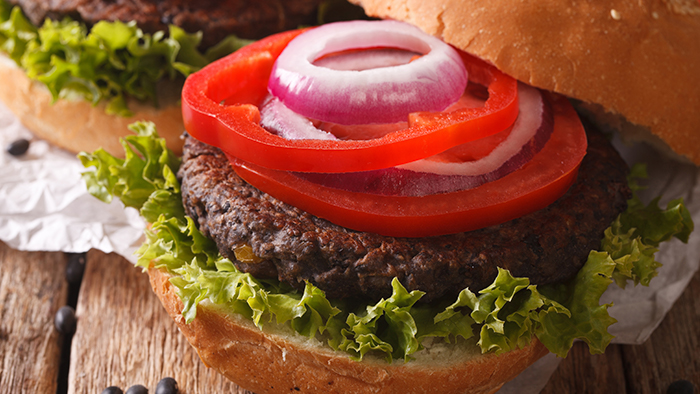 Swap out the ground beef for this delicious vegetarian burger that's bursting with flavor.
Ingredients
425g can no-salt-added black beans, drained and rinsed
1 egg
1/2 yellow onion, chopped
1 cup whole-wheat dry bread crumbs
1 tsp dried oregano
1 tsp dried basil
1/2 tsp garlic powder or granules
1/2 tsp fine sea salt
1/2 tsp hot sauce
1 tbsp extra-virgin olive or canola oil
6 whole-wheat hamburger buns
6 green leaf lettuce leaves
2 tomatoes, sliced
1/2 red onion thinly sliced
1/2 tsp ground black pepper
Directions
Put one can of beans in a large bowl and mash well with a fork. Add egg, yellow onion, bread crumbs, oregano, basil, garlic powder, salt, pepper, and hot sauce. Mix well to combine, and shape into 6 patties.
Heat oil in a large skillet over medium heat. Arrange patties in a single layer, working in batches, if needed. Cook, flipping once, until golden brown on both sides and cooked through (about 10 minutes total). Transfer to buns. Top with lettuce, tomatoes, and red onions and serve.
Nutritional Information
300 calories (50 calories from fat); 6 g total fat; 1 g saturated fat; 30 mg cholesterol; 410 mg sodium; 51 g carbohydrates; (10 g dietary fiber, 6 g sugar); 12 g protein.
(Recipe from Whole Foods Market.)
Grilled Fruit Kebabs With Balsamic Drizzle Recipe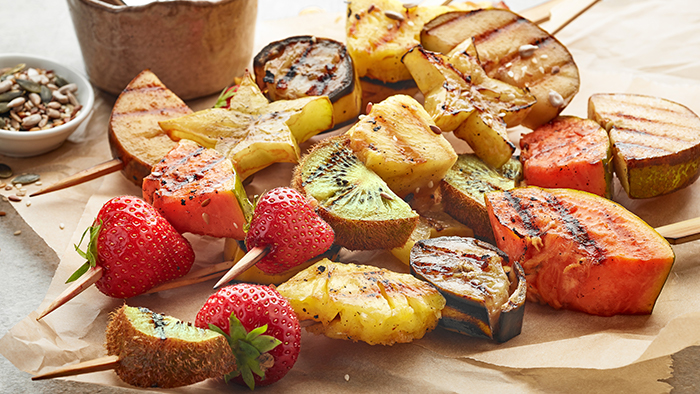 A sweet and savory dish the whole family will love.
Ingredients
8 skewers
2 cups pineapple chunks
2 cups watermelon chunks
2 bananas peeled and cut into large chunks
1 package strawberries with stems discarded
2 tbsp balsamic vinegar
2 tsp honey
1 tbsp canola oil
Directions
If using wooden skewers, make sure to soak them in water for at least 30 minutes.
Adjust the grill to medium-high heat. Prepare the fruit by chopping 2 cups of pineapple and 2 cups of watermelon. Peel and cut bananas into thick slices. Remove stems from strawberries.
Thread fruit onto the 8 skewers, aiming for 2 pieces of each fruit per skewer: strawberry, pineapple, watermelon, banana, strawberry, pineapple, watermelon, and banana. Place onto a platter or baking sheet.
In a small bowl, add vinegar, honey, and oil. Whisk together with a fork. Use a basting brush to glaze fruit with about half of the balsamic mixture.
Add fruit kebabs to the grill. Turn a couple of times while cooking and baste with the remaining balsamic mixture until fruit is caramelized (about 8 to 10 minutes). Remove from grill and serve.
Nutritional Information
199 calories; 4.1 g total fat; 0.3 g saturated fat; 1.2 g polyunsaturated fat; 2.2 g monounsaturated fat; 0 mg cholesterol; 5.2 mg sodium; 43.1 g total carbohydrate; 5.3 g dietary fiber; 29.9 g sugars; 2.4 g protein.
(Recipe from the American Heart Association.)