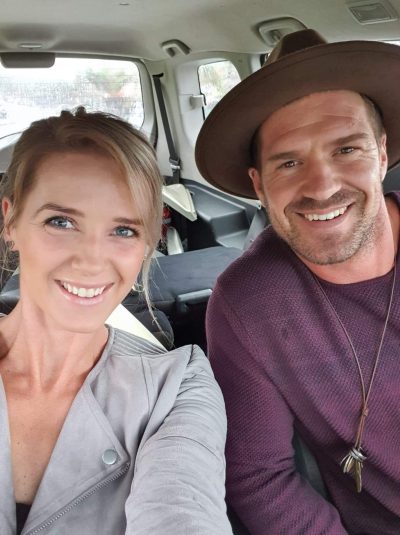 After years battling mental health issues, Bec and Mick Jessop planned to renovate their home as they looked for a fresh start. Before they got to work they opted to go on a family road trip when they came across an Instagram post from Robbie and Luke Pollock. Little did they know that their plans would soon be turned on its head.
Realising that another home renovation would leave a strain on their family and finances, doubt began to set in as Bec and Mick questioned the direction their young family was heading in, but not long later the pair had a moment of clarity.
"As we were driving back home Bec and I just looked at each other as if to say, 'what are we doing?'," Mick says. "At that moment, we decided to put an end to the renovation plans. Instead, we bought a bus so we could start travelling."
Despite only starting their online health business six months ago, Bec closed her beauty salon while Mick left his job working underground in the Sydney tunnels. Before that he'd previously owned two supplement stores and a gym.
With an extensive background in physical health, Mick admits that he's never come across nutrition and supplements as incredible as Isagenix. "My transformation has been next level and all I've really done is added Isagenix into my normal nutrition and training routine," he says. "I thought I was already well-nourished, but when I saw my 'before' and 'after' photos, I knew that wasn't the case."
Bec was so passionate about the products she decided to start building her Isagenix business in the late hours of the evening. With four young kids, her own hair salon and Mick working long and grueling hours, she had to make sacrifices get their new business off and running.
"Isagenix has had such a profound impact on our lives that I was willing to stay up late to message and connect with people," Bec says. "If late nights were the only hours I could do, then that's what I had to do. If I didn't, I wouldn't have been able to help so many people in such a short time."
Now that they're on the family road trip of a lifetime with support from their Isagenix income, Mick and Bec hope to continue growing their business on the go.
"Now that we have so much time together to share the family responsibilities, we'll have the chance to make those phone calls. Having such limited time is the one thing that kind of held us back," Bec says. "We've already spoken to quite a few people on our road trip and we've only reached our first stop!"
After attending their first UIA event in Sydney last week, the Jessop's are more motivated than ever to rank advance to Executive! As relatively new business builders themselves, they've already learnt so much not only about themselves but also the network marketing profession.
"We've learnt that you never really know what to expect so don't take anything for granted," Bec says. "Take a leap because you never know what it's going to do for you and your family."