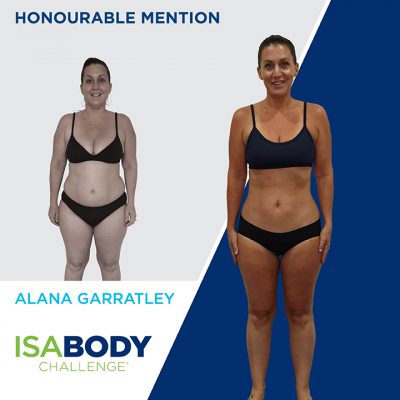 Alana Garratley
Age: 40
Location: NSW, AU
Total Challenges Completed: 1
When the youngest of her three children started school, Alana planned to use her extra time to improve her health. Instead, she was overcome with pressure and couldn't escape the feeling of being uncomfortable, bloated, tired and moody.
With a pharmacy background, Alana researched the ingredients in Isagenix® and signed up with a friend. In her first week she felt more energised.
"In the past 16 weeks I've gone from 80.2 to 62 kg and lost more than 155 cm," she says. "But most importantly, I feel like me again, not just a wife and mother."
The mum of three is now excited to show off her new body on holidays in Hawaii and New York this year.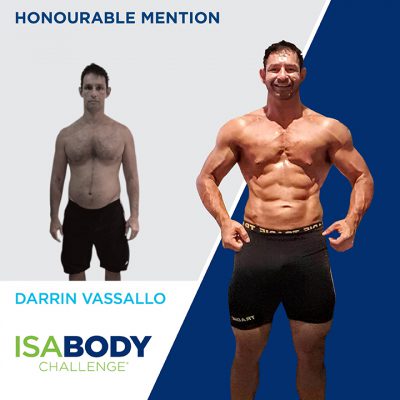 Darrin Vassallo
Age: 43
Location: QLD, AU
Total Challenges Completed: 5
Determined to show what the incredible Isagenix System can do, in February 2018 Darrin completed his fourth Challenge. But didn't get the results he was after. "I deviated from the plan and although I submitted my 'after' photos, I wasn't 100 percent happy with the results."
After winning an IsaDerby trip to Nashville in 2018, Darrin decided to let his hair down as he enjoyed lots of cheeseburgers and BBQ ribs. Despite falling off the wagon, he couldn't help but feel inspired by all the IsaBody Grand Prize Winners from around the globe and commenced his fifth IsaBody Challenge.
"I was determined to make sure this was my most successful Challenge ever," Darrin says. "It's without a doubt been my breakthrough. It's the first time I've ever completed something that I've actually felt proud of!"
Moving forward, he hopes he can lead by example by incorporating the IsaBody Challenge with his business to help other men achieve their goals.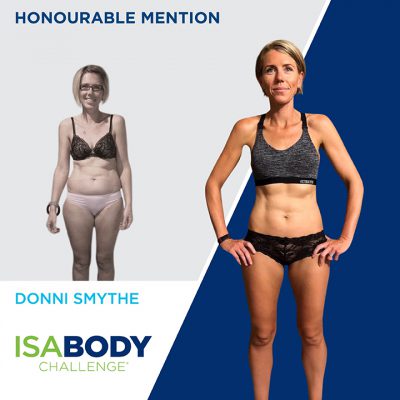 Donni Smythe
Age: 41
Location: Cambridge, NZ
Total Challenges Completed: 5
Being surrounded friends and family who oppose Isagenix, Donni was made to feel guilty and disappointed about her health choices. At Christmas, she received comments about her weight and was repeatedly told that Isagenix didn't work.
"I knew it had nothing to do with Isagenix, it was my own fault," Donni says. "I always went back to enjoying an ice cream or some chocolate."
Although the negative comments got to her, they also became the turning point in her Challenge. Rather than moping around, she used them as her driving force to keep going.
"From that moment, the rest of my Challenge was incredible," she says. "My mind, focus and 'why' became clearer and I learnt not to focus on the negatives."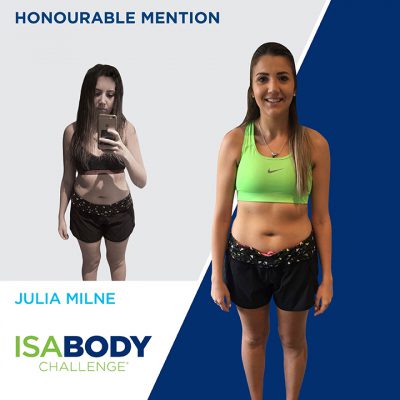 Julia Milne
Age: 25
Location: Auckland, NZ
Total Challenges Completed: 6
Consistency is key, especially for Julia's IsaBody Challenge transformation. Like with most big physical transformations, Julia now realises the importance of a healthy mindset. While exploring the world, Julia develped a habit of overindulging in cultural delicacies, which saw her return to her pre-Isagenix weight from two years ago.
"I knew I had the tools available through Isagenix to make a change," Julia says. "I've shifted 7.6 kg and  the spring's back in my step!"
As someone unhappy with the person they saw in the mirror, her biggest milestone isn't just on the scales.
"I spent the Labour Day weekend at the beach with my friends and I had the confidence to whip out my bikini!" Julia says. "I also attended my first ball since high school and I felt so confident and beautiful."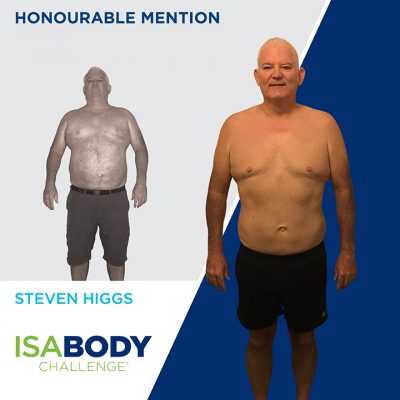 Steven Higgs
Age: 52
Location: NSW, AU
Total Challenges Completed: 1
Steven's weight gain was a deceptive progression that began almost 20 years ago. It started when he noticed subtle differences like a shirt rising up his stomach here and there, followed by breathlessness when climbing hills or stairs. A major career move – from active tradesman and keen sportsperson to stressed-out office worker – saw Steven's weight gain significantly impact his quality of life.
"I was a very poor role model for my eight- and 13-year-old children," Steven recalls. "My body was often sore and I was barely able to engage with them in physical activities."
The father of two's turning point was at his high school reunion. The 52-year-old could barely recognise himself in the event photos.
"I contacted my friend and started an Isagenix System and the results completely blew everyone away," Steven says. "I lost 31.2 kg and 128 cm in 16 weeks! I now have renewed focus, direction, a real sense of purpose and I've found peace in life."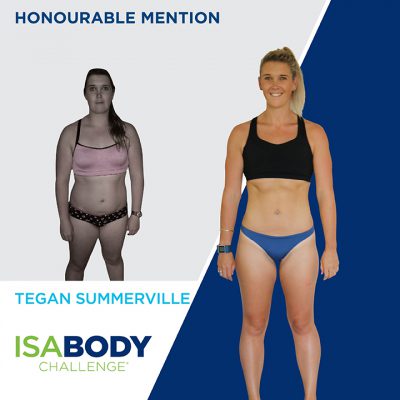 Tegan Summerville
Age: 26
Location: Morrinsville, NZ
Total Challenges Completed: 4
There was nothing Tegan wanted more than to become a New Zealand police officer, but she had a moment of hesitation when she was on the cusp of joining the force.
"I weighed 102 kg, had no self-esteem, cried every time I looked in the mirror and couldn't bare to exercise without long pants and a long-sleeved shirt," Tegan says. "I couldn't even run 100 metres, so how could I pass a 2.4 km police fitness test?"
In a desperate attempt for help, she spent hundreds of dollars on various nutrition plans, personal trainers and meal replacement diets, but nothing seemed to work.
"I lost 12 kg in my first month and I was a totally different girl, not just through my appearance but on the inside too," she says. "I was eventually accepted into the Royal New Zealand Police Force and passed all my fitness tests! I've lost 32 kg over the last three years, but becoming a police officer is my biggest achievement to date."