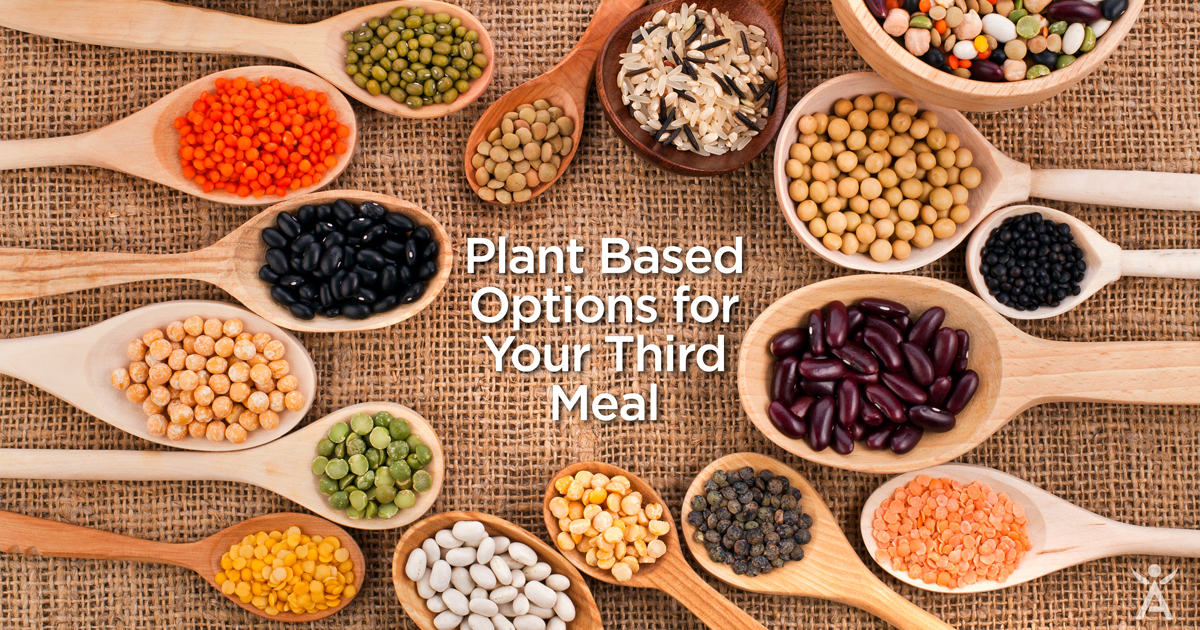 If your focus is plant-based nutrition, IsaLean™ Shake Dairy Free and IsaLean™ Bar Dairy Free are two meal replacement options. By getting a balanced amount of protein at each meal, not only can you stay satisfied longer but you also provide your body with the best support for building lean muscle.
In addition to Isagenix dairy-free products, here are three plant-based protein options for your third meal on Shake Days:
Legumes
Legumes are a group of plant foods that contain a wide variety of nutrients. Healthy and economical, legumes are also high in protein, making them an ideal base to a vegetarian or vegan dish or a substitute to meat.
Legumes are high in dietary fibre and soluble fibre and are a good source of low glycemic carbohydrates. Due to these factors, legumes keep you feeling fuller for longer and may help to lower cholesterol and keep bowels healthy. Even better, legumes are an affordable alternative to meat, so adding them into your diet in lieu of meat can help your wallet.
So, what foods are legumes and how can you incorporate them into your diet?
–          Lentils are a versatile legume and can be used in salads, soups and curries and even used to make vegetarian or vegan burger patties. A cup of cooked lentils provides 18 grams of protein and 960 kilojoules.
–          Beans are a popular and healthy alternative to meat products. Depending on the variety, 1 ¼ cup of cooked beans provides 18-22 grams of protein and 1250 – 1670 kilojoules. Some delicious choices are black beans, pinto beans and lima beans.
Top tip: Similar to lentils, beans are a staple in vegan and vegetarian cooking, including meat-free burgers and even baking!
–          Chickpeas are one of the earliest cultivated legumes and it's no surprise why. A cup of cooked chickpeas contains 14.5 grams of protein and an enormous 12.5 grams of dietary fibre. You can also roast your chickpeas to make for a crunchy, warm snack or topper on salads.
Top tip: Try seasoning them with some smoked paprika and a little salt before baking for a tasty, protein-packed flavour hit.
Seeds
It's easy to overlook seeds but although tiny, seeds pack a serious nutrition punch.  Incredibly versatile, add them to shakes, cereals, salads, sandwiches and homemade energy bars and protein balls.
–          Chia seeds have been used for centuries for their myriad of health benefits. Per tablespoon, chia seeds contain three grams of protein and five grams of fibre.
Top tip: Chia seeds absorb several times its weight in water, creating chia gel which is a staple in vegan baking to act as a binder in lieu of eggs.
–          Flax seeds are a great source of protein and soluble fibre which helps to slow down digestion and can help in the regulation of blood sugar levels and appetite. They also contain omega-3 fatty acids that may be lacking in a vegetarian or vegan diet.
Top tip: The outer shell makes flax seeds difficult to digest so ground your flax seeds into a powder to receive the full benefits.
–          Seasame seeds are not only delicious, they're also nutritious!  Sprinkle sesame seeds over Asian-inspired dishes as well as over salads, roasted vegetables and burger mixtures. Not only will they add flavour and texture, they're also a great source of dairy-free calcium and essential minerals such as copper
–          Quinoa is an ancient grain that originated in South America, rising to fame in recent years due to its diversity and nutritional profile.  Often mistaken for a grain, quinoa comes from the seed family and is high in fibre, protein and iron making it the perfect base for any vegetarian or vegan meal. A good alternative to rice, quinoa contains eight grams of protein per cup and is considered a complete protein, meaning it contains all nine essential amino acids the body needs.
If you are using the Isagenix system, you can choose any of these plant-based protein options for your 1670-2500 kilojoule meal. Many plant-based proteins like lentils, beans and peas also provide energy-fueling complex carbohydrates in addition to protein. Since your carbohydrates will already be accounted for, you can fill the remainder of your plate with fruit and vegetables and round out your meal by adding a source of good fats. Use the end of your thumb (about a tablespoon) as a guide for portion size. With a little creativity in the kitchen, you will be crafting balanced, plant-based meals in no time!