In January 2018, Nat Pouniu's life was turned upside down. Just one year after the birth of her son, Nat discovered that her loving husband Drew was diagnosed with terminal cancer. Trying to manage life with a little boy and visiting her husband in hospital every day made her run down, exhausted and depressed.
Not only was Drew in for a gruelling battle with cancer, but Nat also had some health troubles of her own. "I have Polycystic Ovaries and Hypothyroidism and recently found out I have Hashimoto's Autoimmune disease," Nat says. "With all the extra stress in my life, I was emotionally eating, abusing food and putting on weight in a vicious cycle."
Just as Nat felt it was all too much to cope with, she found inspiration in her friend's recent health transformation. "I already thought she had a great body, but you could still see that she had such an amazing transformation in just 30 days."
What Nat thought would be a 'quick-fix' solution to her struggles with weight loss and mindset turned out to be a system she developed complete faith in. She quickly fell in love with her new and improved lifestyle. Three months later, in the midst of her husband's battle, Nat was 15 kg lighter.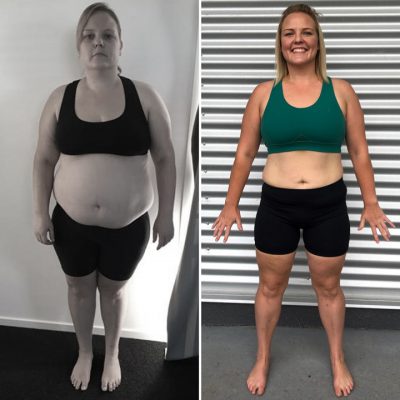 "Stepping on the scales, seeing my husband's big beautiful smile and having him celebrate with me was such an incredible highlight," Nat beams. "He told me how proud he was of my strength, by encouraging him and keeping things going for our family while improving my health at the same time."
The next twist in Nat's journey arrived when her husband Drew passed away in November 2018. Nat hit an all-time low, feeling completely overwhelmed with her daily challenges and the anxiety of the future.
Just 11 days later, amidst all the chaos, Nat found the courage to sign up for a new IsaBody Challenge®.
"I knew my husband would be proud of me if I got back on the bandwagon," Nat says. "I'm the only one here for my son, so I need to make sure my health is at its peak, and I knew an IsaBody Challenge would help me reach those goals."
Even though Nat has new goals to become stronger and fitter than ever before, she's already become a more active mother and healthy role model for her little boy.
"Now that he can ride a balance bike, my walks have now turned into a jog to try and keep up!" she exclaims. "When I work out at home he grabs his little weights and joins in. It feels amazing to know that he's watching and picking up healthy habits that will help him in the future."
While her determination has played a big part in her transformation, Nat aims to channel the support, encouragement and positive vibes from the IsaBody Challenge community to become a future IsaBody Challenge Finalist!