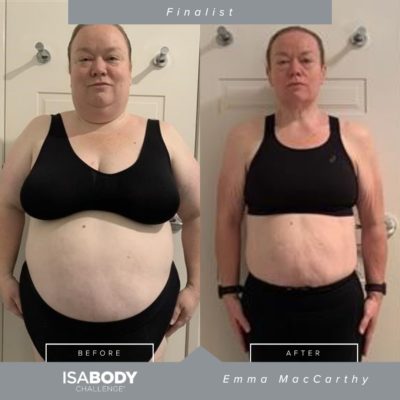 Emma MacCarthy
Age: 44
Location: New South Wales, Australia
Challenges Completed: 3
Being overweight has always been an obstacle for Emma, which without fail has made a significant impact on the way she goes about life – from putting herself down and living in fear of being judged to lacking the energy to keep up with her kids. 
After 2 IsaBody Challenges since 2020, Emma has completely transformed her life losing over 40 kilos. She has built a newfound confidence and empowerment within herself and stepped up as a role model for her kids. Now completing her third IsaBody Challenge, Emma has lost an incredible 48.2 kilos and improved her fitness remarkably. 
The Journey may not always be smooth sailing, but the simplicity of the system and supportive community around her has provided happiness, joy, and a purpose she never knew existed. 
"No longer do I need to take naps every afternoon and lose 2 hours a day. I can outrun my kids and keep up with their energy. I don't have to use humour to put myself down about being grossly overweight before someone else might. I don't have to be terrified of other people's reactions when they realise they are stuck next to me on a plane. I don't care if people see me eating in public and I don't worry about whether they are judging me for doing so."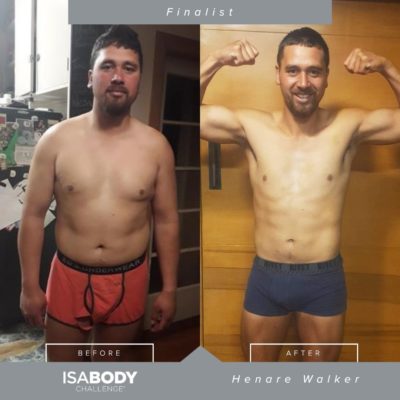 Henare Walker
Age: 26
Location: Gisborne, New Zealand
Challenges Completed: 3
The first IsaBody challenge was game changing for Henare, improving his health, his fitness and most importantly the example he was setting for his children. Accompanied by his wife, and supported by the Isagenix community, Henare turned negativity and damaging habits into a healthy, happy sustainable lifestyle. 
"I love that my wife and I have been on this journey together and how much closer it has brought us together purely because as individuals we feel amazing and have had amazing triumphs with our lifestyle change." 
Now completing his second IsaBody challenge, Henare is proud beyond measure, reaching new levels of physical fitness, mental clarity, confidence, and control. "I know in myself when I push through all the BS and just get cracking, I am going to feel good and more importantly I am going to fuel my body with the goodness that Isagenix is and does for my mental, physical and emotional being." 
Kirra Savill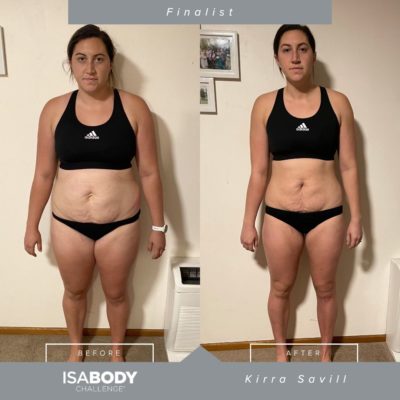 Age: 28
Location: Hamilton, New Zealand
Challenges Completed: 1
After having 2 beautiful children, the extra kilos brought on from pregnancy was foreign for Kirra, having always been slim, fit, and full of energy representing New Zealand in Netball and Volleyball. The thought of accepting the extra weight and recognising herself has a "big" girl starting to settle in. 
Eventually the motivation hit hard and enough was enough. Emma not only signed up to the IsaBody challenge, but also to a new gym to really drive the results forward. It wasn't long until the scales reflected the momentum she built, and her energy levels shot up. 
"I have found the spark that was missing, and I feel so much more confident in my own skin. The external change has been huge, but the internal change has been even bigger. I feel fit, healthy, and back to my old self." 
20kg down and radiating with energy, Kirra is confident in maintaining her new body and being the best mum, she can be for her kids as she continues with her new lifestyle.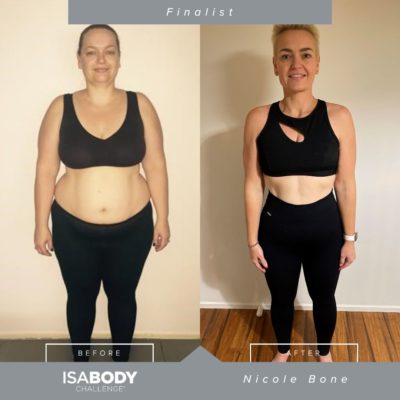 Nicole Bone
Age: 40
Location: New South Wales, Australia
Challenges Completed: 13
Completing an impressive 13 IsaBody Challenges, Nicole is still getting stronger each and every day. From a once unhappy and unhealthy lifestyle, with the support of the Isagenix system and IsaBody community, Nicole has worked tirelessly to drop a tremendous 39.8kg, not only shifting excess weight but improving her mindset, focus and determination. 
"Also, in saying I am proud of how much weight I have lost, the person I have become and the mum I now need to be. I complete these challenges now with pure joy and happiness as I see-myself looking fit and healthy." 
Her strong belief that everyone deserves to feel the best they possibly can is fueling her passion for sharing these products and smashing through many more challenges ahead – next time, switching the focus to building muscle. 
Tony Simmonds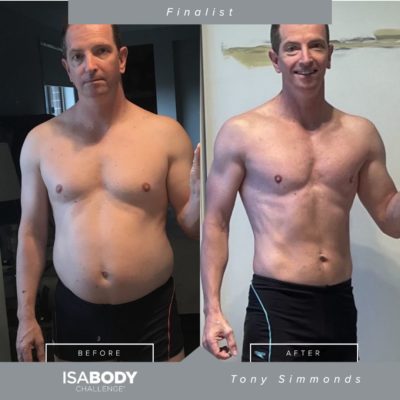 Age: 49
Location: New South Wales, Australia
Challenges Completed: 1
The results speak for themselves with this tremendous transformation story. As life got in the way, excess kilos started piling back on for keen cyclist and busy dad, Tony. Determined to get back to his peak physical condition, he started with Isagenix and immediately jumped on the IsaBody Challenge. 
Amazed at what he saw in the mirror after the short 120 days, Tony surpassed expectations dropping an incredible 15kg of excess weight, 20cm around his waist, normalised his cholesterol and blood pressure and remarkably halved his visceral cancer-causing fat from 105cm2 to 60cm2. 
"At the age of 48 I am feeling faster, fitter, and stronger than I have EVER been in my whole life. So Energised!" 
Now introducing the program to many of his friends and embracing the energy and strength these products have brought, Tony is on a journey to share his success story, build muscle and continue smashing his personal records.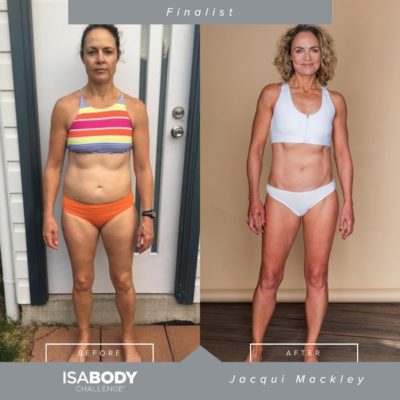 Jacqui Mackley
Age: 51
Location: New South Wales, Australia
Challenges Completed: 8
Struggling to juggle the curve balls life threw her way, Jacqui found herself burnt out feeling flat mentally, emotionally, and physically. However, using these challenges as motivation, she turned to the Isabody Challenge to kickstart a needed change. 
This time bringing her absolute A game, Jacqui thrived off the Isagenix products, community, and support turning her focus to protein intake and resistance training to amplify her physical results. Setting an inspirational example for women over 50, Jacqui is proof that age is just a number, and everyone deserves to embrace their best self. 
"I am so proud of the strength I have achieved in mind and body, and I am thrilled that people around me can see it too… Inspiring and helping other people to improve their health, no matter what their age, is a massive motivation for me" 
Feeling empowered, resilient, and strong with a fire inside of her that drives positive changes each and every day, Jacqui is dedicated to a life of consistently improving her health inside and out and inspiring other women to do the same. "Life will always throw curve balls and the only thing we can control is our own actions and how we respond to them."