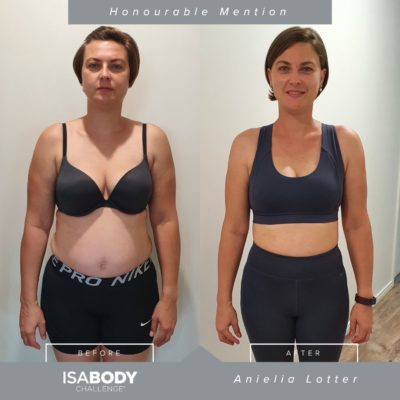 Anielia Lotter
Age: 35
Location: Queensland, Australia
Challenges Completed: 1
In October of 2020, Anielia was moody, grumpy, short tempered, tired and pushing everyone away. After a short Christmas getaway to recharge, realisation sunk in that her day-to-day life was hindered by the way she saw herself. Overweight and unhappy with herself, Anielia stumbled across a relatable "Transformation Tuesday" post and found hope. 
Finding an accountability partner and signing up to the IsaBody Challenge set Anielia up for success as difficulty walking and running shortly turned into a desire to get out and exercise. Just 3 weeks in, the tables had already turned. "I hadn't felt as tired lately and I was in a much better mood. I had more energy during the day, there was less frustration going around and everyone noticed it." 
Building the happiest, healthiest version of herself, Anielia had dropped 5.5kg and 29cm in just 30 days and has completed the challenge as a more confident and 'in control' version of herself. 
"Never in my wildest dreams would I have imagined that this journey would be so personal, so challenging, so motivational, so empowering, so LIFE CHANGING!"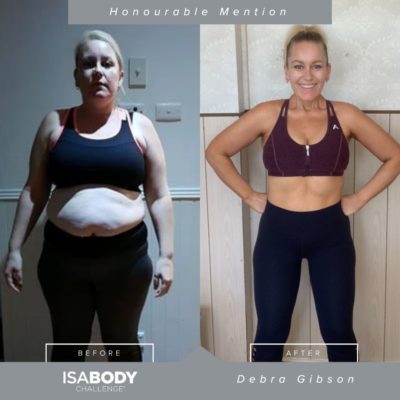 Debra Gibson
Age: 38
Location: New South Wales, Australia
Challenges Completed: 11
Although fronting a brave face for so many years, Debra was a once broken and destroyed woman barely keeping herself together to protect and raise 3 beautiful children. Shielding her relationship traumas from those around her, the pain and suffering was all too much to hide. So, after spending each day feeling hopeless, Debra took on the IsaBody challenge as something new to focus on. 
"Here I am protecting and nurturing my children but what was I doing for me? Nothing! I realised that what my children truly need is a happy, healthy thriving Mama, not a broken, depressed, unhealthy and trying to survive Mama."  
Although life didn't get any easier, Debra's health, energy and feelings toward herself and her purpose started improving as each day she could find joy and catch herself smiling again. Remaining consistent and immersing herself into the supportive community, Debra's newfound empowerment opened a world of opportunity, including a new home. 
Amazed with her courage and strength, Debra has escaped a lifetime of destruction and built a purposeful life now dedicated to supporting herself, her children and other women. "My kids have their mama back; they have a mama smiling and a mama who never ever gave up!"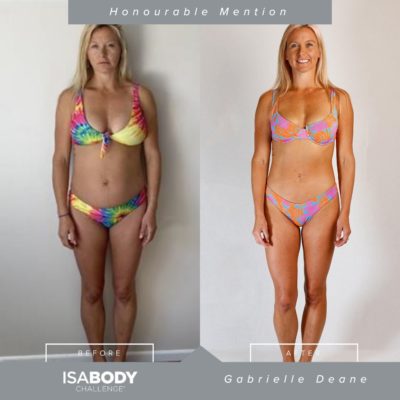 Gabrielle Deane
Age: 36
Location: Tairua, New Zealand
Challenges Completed: 12
A lover of health and fitness, and longtime member of the Isagenix community, Gabrielle is no stranger to the IsaBody Challenge or to being in shape and in control of her body and mind. It wasn't until she fell pregnant and let the weight gain and bounce back stories of others affect her thoughts. 
"It seemed that weight gain, low energy, and reduced quality of life that was imminent after having children. Needless to say – my mindset was not in a good place." 
As her body changed, confidence was lost, insecurities crept in, and anxiousness took over. Although still in great physical condition, her mindset had crumbled. 12 weeks after her cesarean, Gabrielle was cleared to exercise again and once again entered an IsaBody challenge with a whole new motivation. 
Only 3 months into the challenge, Gabrielle's energy, strength and positive outlook returned, and so did her body. "I haven't just got my pre-baby body back, I am STRONGER, LEANER, and MORE ENERGISED than before baby! I'm actually in better physical shape than before my pregnancy!… I am SO proud of myself & grateful to these incredible products for allowing me to completely debunk any myths that having children 'destroys your body" because I feel the complete opposite!"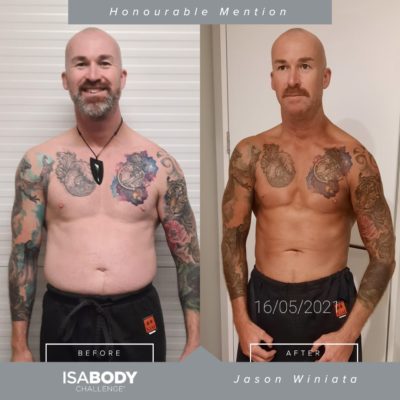 Jason Winiata
Age: 44
Location: Christchurch, New Zealand
Challenges Completed: 1
Everyone enters the IsaBody challenge for different reasons, for Jason, it was a bucket list item put together after the Christchurch Earthquakes. With a goal of an impressive physique (of course consisting of killer abs), Jason was tired of looking in the mirror and being met with disappointment. He was overcome with fear that he would never have the body he wanted despite consistently training hard at the gym. 
It was after being introduced to Isagenix and realising the nutritional and supportive benefits from the products and community that Jason started believing in his goal again. "The IsaLean Pro shake and AMPED Nitro quickly became part of my routine and with weekly 48hr fasting supported with the "Cleanse for Life" Rich berry powder massively helped to reduce my fascia fat and to build tone." 
Adding another goal of now helping others experiencing similar issues to reach their full potential, Jason is committed to the healthy lifestyle supercharged with Isagenix products and on his way to "maximum tone, increasing muscle mass and to achieve body fat goal of 10% or less and of course better-looking abs."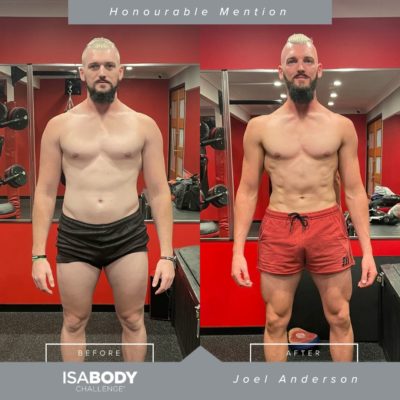 Joel Anderson
Age: 24
Location: Queensland, Australia
Challenges Completed: 1
Bad habits get to the best of us, but for Joel, the result of excessive weight gain was something he just wasn't comfortable living with. "I was lazy, felt overweight, soft in all areas, lacked energy and unable to do most of the things I enjoyed!" 
Setting a plan, joining the IsaBody Challenge and getting his partner on board was the starting point to changing his ways and finding purpose again. It wasn't until 7 weeks in, when they realised their dedication, commitment and support wasn't where it could be. After enlisting the help of a coach, clarifying their goals and taking full advantage of the Isagenix system their results escalated. 
"If it wasn't for our use of Ionix, my stress levels would have been through the roof… Without BEA I wouldn't have had any energy… the cleanse + tea was a staple to end our night and relax the mind + body as well as the nutrition I received from the IsaLean shakes, it was just a phenomenal surge inside my body" 
Taking his results to the next level, Joel is invested in educating others about a nutritionally balanced diet, and the journey to a sustainable better and healthier life.