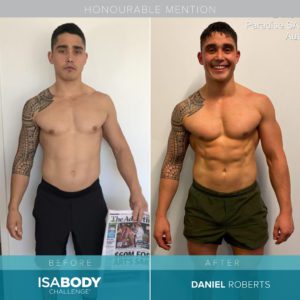 Daniel Roberts
Age: 30
Location: South Australia, Australia
Challenges Completed: 3
Living an unhealthy lifestyle, Daniel turned to health and fitness to turn his life around. Now, having completed his third IsaBody Challenge®, Daniel embodies the Start, Complete, Repeat method that has proven successful for thousands of challengers over the years.
"These products have allowed me to hit my peak performance in the gym and helped me recover between sessions," he says. "The products, together with my training, have helped my body transform in more ways than I could imagine."
The admitted product sceptic is now passionate about sharing the gift of Isagenix to those around him.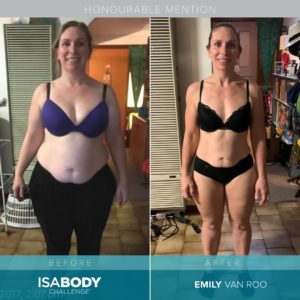 Emily Van Roo
Age: 38
Location: Victoria, Australia
Challenges Completed: 6
As Emily entered single parenthood for the first time, she was scared, alone and the heaviest she'd been in her life.
"I had three small children that needed me to be the best version of myself," she says. "There I weighed in at 94 kgs with some of the worst eating habits I'd had in my life."
Once deciding to make a change, Emily lost 14 kgs in her first challenge and has continued to go from strength to strength.
"To date, I've lost almost 30 kgs and well over 110 cm," says Emily.
Moving forward, Emily hopes to inspire other full-time working single-parents that their goals are very much achievable, no matter what personal challenges are in their way.
Rachel Habraken
Age: 26
Location: Hamilton, New Zealand
Challenges Completed: 3
Living in her comfort zone, Rachel tried to keep a steady and stable routine. This year, her routine was set, and as a result, she had reached her peak fitness as she aimed to complete her first half marathon. However, her routine was suddenly taken away from her.
"All of a sudden, our nation was in lockdown in the midst of a global health crisis," she says. "The event I'd put on a pedestal, that I'd dedicated so much time to achieving was cancelled."
Instead of wondering about what could have been, Rachel set herself new goals to maintain all the incredible progress she'd made throughout the year.
"It enabled me to remain empowered," she says. "My previous two challenges provided me with all the lessons and groundwork to grow and thrive in this new reality."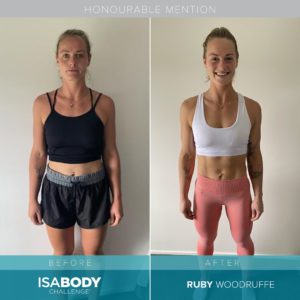 Ruby Woodruffe
Age: 26
Location: Coromandel, New Zealand
Challenges Completed: 1
When Ruby and her partner first took over a campground, they weren't prepared to all the chaos that accompanied such a huge decision. Working full-time, renovating and living together for the first time, consumed their entire lives.
"We were so stressed we didn't even have time to eat," she says. "But we found a way to carry on our bad habits which included excessive alcohol consumption, sleepless nights and arguments."
After witnessing their friend's positive health journey, the couple grew jealous by the day. Ruby realised that she could lose her relationship and her business if she continued the same path.
My energy levels went through the roof, my skin was glowing, and my overall health started to improve," she says. "Not only had I lost so much weight, but also a whole bunch of negativities with it too."