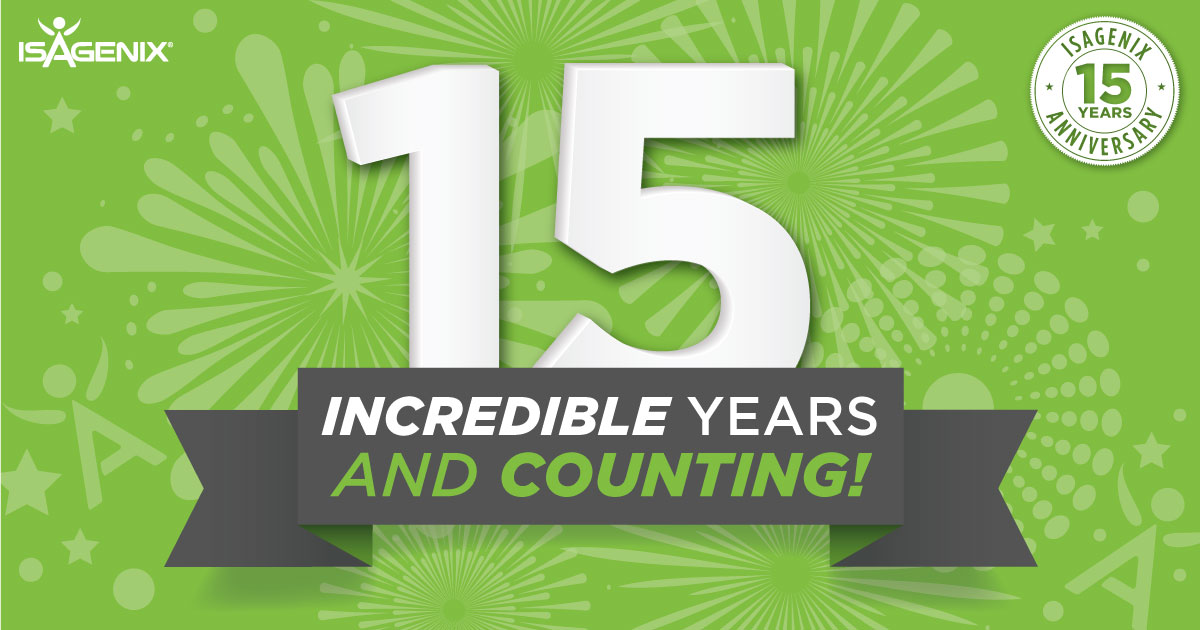 Today marks 15 incredible years that Isagenix has been helping thousands transform their lives. In honour of this crystal anniversary, Mayor of Gilbert, Arizona, Jenn Daniels, will join Jim and Kathy Coover and Isagenix employees at the company's headquarters in celebration of this incredible milestone and to proclaim 23 March as Isagenix Day in Gilbert, Arizona!
Join us as we journey back to when our Founders John W. Anderson and Jim and Kathy Coover started Isagenix and celebrate the company's many milestones throughout the years.
Here are a few of those exciting moments:
2002
John Anderson founds Isagenix along with Jim and Kathy Coover
2003
30-Day System is born in the US
2004
Reached US$100 million in cumulative sales
Open new World Headquarters
2225 Price Road – 15-acre site with 62,000 square feet
2005
Jim Coover becomes CEO
2006
Kathy Coover becomes Executive Vice President
2007
Reached US$100 million in annual sales
IsaBody Challenge® is started in the US
2009
Isagenix appears on Inc. 5000s fastest-growing companies in the US for third consecutive year.
2010
Reaches US$1 billion in cumulative sales
Isagenix enters youthful-ageing market with Rejuvity® in the US
2011
More than 50 Isagenix Associates become Isagenix Millionaires*
Over US$10 million added to the compensation plan
2012
New tagline 'Solutions to Transform Lives™' is launched
2013
Results from independent clinical UIC study published in two prestigious peer-reviewed journals
2014
100th Isagenix Associate reaches Isagenix Millionaire* status
Isagenix is ranked No. 29 in the world by Direct Selling News on the Global 100 list
2015
New Performance product line launched
2016
Move to new World Headquarters in Gilbert, AZ
Isagenix has 150,000 square feet of office space
Reaches US$4 billion in cumulative sales
2017
Isagenix grows to over 1,000 employees globally
Town of Gilbert proclaims 23 March Isagenix Day
Today, Isagenix is charging toward its biggest goal ever and with more than 550,000 dedicated Customers and more than 1,000 loyal employees we know we can achieve anything. "I still remember the day I went into our small Phoenix, AZ office and told our employees that we would be moving into a new 62,000 square-foot building," laughs Kathy. "They all looked at me like I was nuts but I reassured them we were going to fill that building within a few years; and we did. Now, we are in a beautiful 150,000 square-foot building and mark my words, we're going to need a bigger building soon."
*Isagenix Millionaires are Independent Associates to whom Isagenix has paid a gross total of $1 million or more since joining Isagenix. Earnings reflect gross amounts that do not include any business expenses. Earning levels or income statements (including claims such as the ability to quit a job or stay at home or portrayals of luxury lifestyles) for the Isagenix Independent Associates discussed here exceed the average results achieved by all Associates during the same time period, are not necessarily representative of the success or compensation that any particular Associate will receive, and should not be construed as typical or average. The ability to earn income under the Isagenix Team Compensation Plan depends on many factors including an individual Associate's business, social, and sales skills; personal ambition and activity; availability of time and financial resources; and access to a large network of family, friends, and business contacts. Isagenix cannot and does not guarantee any particular level of earnings. Even Associates who dedicate a significant amount of time, effort, and personal funds may not achieve a meaningful level of success. For average earnings, please refer to the Isagenix Earnings Disclosure Statement at IsagenixEarnings.com.