Kate Middlemiss has wanted to transform her health for the last decade. It's impacted her confidence, marriage and most of all, her ability to be the best mum for her six-year-old son Dalton. Kate tried everything and anything she could to lose weight, from signing up at gyms to countless Personal Trainers and Dietitians, nothing seemed to help her maintain results.
After spending years struggling to reach her weight loss goals, Kate came to the conclusion that her only option was to undergo weight loss surgery. However, those plans quickly disappeared.
"Two months after making that decision I was pregnant with our second bub," says Kate. "Life was exciting but in the back of my mind I convinced myself that carrying this beautiful baby allowed me to eat whatever I wanted."
After the birth of her second son Rowdy, the mother of two was the heaviest she'd ever been. She had no energy, struggled to sleep and was always in pain. She promised herself that she would finally release the weight by having her weight loss surgery. That was until she saw both her mother and sister in-law's success with Isagenix®.
Seeing and hearing about their transformations – both physically and mentally – sparked Kate's curiosity. After discussing Isagenix with her glowing mum, she decided to give Isagenix a go and immediately signed up for the IsaBody Challenge®.
In her very first challenge, Kate lost an incredible 19.1 kgs!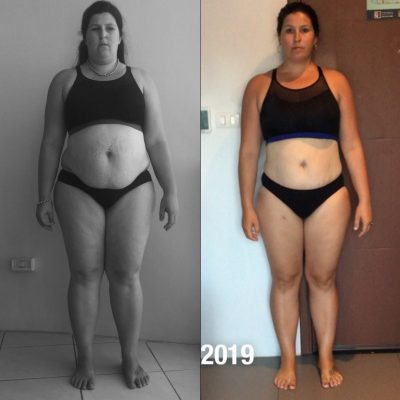 "I followed the program and because I started just four weeks post pregnancy I was limited to very light exercise," she says. "My friend and I wake up at 4:30 in the morning and go for a light walk every day, nothing too strenuous."
Even though she joined Isagenix to kickstart her weight loss journey, Kate considers her physical transformation to be a bonus.
"The fact that I'm actually in control of what I'm doing and how I feel amazes me!" she exclaims. "People tell me how proud they are and to get that recognition is one of the best things about this journey."
If you're worried about committing to an IsaBody Challenge, Kate reassures that the 16-week Challenge isn't anywhere near as scary as you think.
"The first few weeks are tricky, but the support from my sponsor and the IsaBody Challenge ANZ Facebook community helps you overcome all that and motivates you to succeed."
If you are pregnant, breastfeeding, diabetic, on medication, have a medical condition or are beginning a weight loss program, consult your GP before using Isagenix products or making any other dietary changes. Discontinue use if adverse event occur.
Weight loss should not be considered typical. In a study performed in 2012 by University of Illinois at Chicago researchers, subjects lost an average of 4.1 kg with an average of 0.9 kg of the loss from visceral fat after 30 days on an Isagenix system. The subjects also had a greater level of adherence and had more consistent weight loss from week to week compared to subjects on a traditional diet.