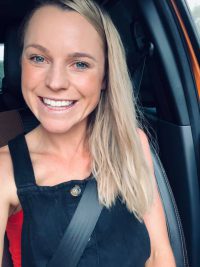 As a very successful Business Development Manager, Kayla Milner always thought she would return to the corporate world after becoming a mother three years ago. That was until a good friend shared a post on social media about earning residual income from home with a newborn baby.
Even though Kayla had been using the products for years, it proved to be the light bulb moment in Kayla's life.
"Even though I loved my job I realised that there was no way I could go back to doing 13-14 hour days," says Kayla. "Being at home and being the hands-on mum is what I wanted to do, so I reached out to my friend and told her I was ready."
When Kayla finally decided to start an Isagenix® business, she was embarrassed to admit that she had no idea what network marketing was. All she knew was that the products worked and she could get paid for sharing them.
Like most new mums earning a side hustle, Kayla did whatever she could while her daughter Kenzie had her nap, ate or jumped around in her bouncer. She managed all of it while her husband Ben worked fly-in fly-out in the mines.
"Now we have a 15-month-old son Quade as well as my daughter Kenzie who's almost three now," says Kayla. "When my husband was away, it was quite difficult at times when it was just the three of us."
Not long ago the Milner family moved to central Queensland, so Ben no longer had to fly-in and fly-out for work. Even though Ben spends more time at home with the family, Kayla continues to use her Isagenix business to fuel her career-driven personality.
"My husband earns enough money in the mines to give me the option of staying at home with the kids without my Isagenix business or going back to work," explains Kayla. "But that's not me. I needed something because I'm so focused and career-driven, it was just perfect timing that this opportunity with Isagenix came up."
Not only can Kayla treat herself to getting her hair and nails done, or contribute to the mortgage and bills, but she's also been lucky enough to help people overhaul their health and reward her family too.
"Seeing people's health transformations and helping people achieve their goals is always a massive highlight for me," says Kayla. "On the business side, qualifying for the Fiji Challenge and being able to take the whole family was amazing."
After achieving the top rank of Crystal Executive, Kayla now has her sights set on being recognised with the START group on stage at ANZ Celebration 2020 while also making the jump to 3 Star Crystal Executive.
"Anybody can do this!" she exclaims. "Just give it a go, believe in yourself and never give up. If you're willing to invest some time, then you can absolutely smash it."