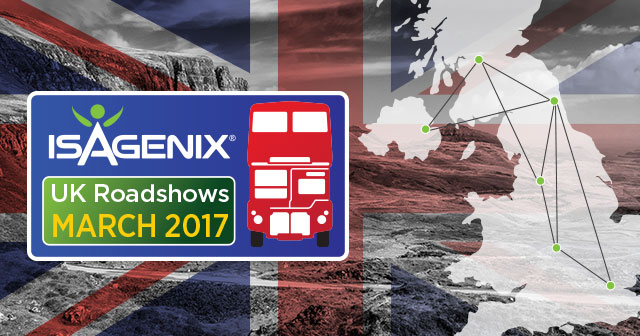 With less than one week to go until the March 2017 Roadshows begin, the UK Corporate Team are putting the finishing touches on each event and getting ready to hit the road. We hope you're excited about attending!
A few important things to remember:
Please print your barcode email and bring it with you. This will be your ticket on the day.
We will not have extra tickets available on the door. Only those with valid barcodes will be allowed entry.
We suggest bringing a notebook, pen and bottle of water with you.
Full details on each Roadshow can be found below:
27 March: Belfast
Event location: Belfast Europa Hotel
Meeting room: Exhibition Centre
Doors open: 7:00pm
Address: Great Victoria St, Belfast, BT2 7AP
Parking: McCausland Car Park situated on Grosvenor Road (two minutes walk from the hotel)
28 March: Glasgow
Event location: DoubleTree by Hilton Hotel Glasgow Central
Meeting room: Alloway and Clarinda Suite
Doors open: 7:00pm
Address: 36 Cambridge St, Glasgow, G2 3HN
Parking: Chargeable car parking available at rear of hotel
29 March: Newcastle
Event location: Crowne Plaza Stephenson Quarter
Meeting room: Stephenson Suite
Doors open: 7:00pm
Address: Hawthorn House, Forth Banks, Newcastle upon Tyne, NE1 3SA
Parking: Chargeable car parking available at Stephenson Quarter Car Park, adjacent to hotel
30 March: Manchester
Event location: Hotel Football
Meeting room: Stadium
Doors open: 7:00pm
Address: 99 Sir Matt Busby Way, Stretford, Manchester, M16 0SZ
Parking: Complimentary parking at hotel, first come first served
31 March: Birmingham
Event location: NEC
Meeting room: Gallery Suites (map can be found here)
Doors open: 7:00pm
Address: The NEC, Birmingham, B40 1NT
Parking: North 1 car park, gate 3 (map can be found here)
Travel to the venue: Information can be found here
1 April: London
Event location: London Hilton Metropole
Meeting room: Monarch Suite
Doors open: 10:00am
Address: 225 Edgware Rd, London, W2 1JU
Parking: Chargeable parking available underneath hotel
Nearest tube/train station: Edgware Road and Paddington
Arrival instructions: Please use the West wing of the hotel. This is marked on the front of the building. The Monarch Suite is located on the first floor.
There are still a few tickets left for the Belfast Roadshow – don't miss out on the chance to join us and find out more information on the company and UK launch. Buy your tickets here!