Indulge in Birthday Cake…
The party starts July 26, celebrating our newest Limited Edition IsaLean Shake Birthday Cake.
To build your anticipation, we have three wholesome recipes featuring this delicious limited edition flavour that we definitely think are worth trying. #protein #birthdaycakeprotein
Birthday Cake Balls
Ingredients
3 scoops Birthday Cake Flavor 

Isa

L

ean

 Shake

 

2 tbsp almond flour

 

2 tbsp melted coconut oil

 

3-4 tbsp water (depending on the consistency of your dough)
Directions
Mix all of the dry ingredients together in a large bowl. Add in coconut oil and water as needed. Mix until a dough has formed.
Create 1 tablespoon-size balls of dough and place them on a plate or in a tin on top of parchment paper.
Chill in the refrigerator for 1-2 hours until firm. Enjoy! 
Birthday 
C
ake Pancakes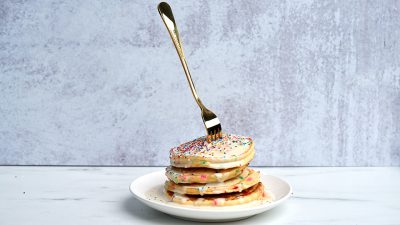 Ingredients
2  scoops  Birthday Cake Flavor 

IsaLean

 Shake

 

1 tbsp  gluten-free flour

 

1/8 tsp  baking powder

 

1/8 tsp  ground cinnamon

1/4  cup unsweetened almond milk

 

1  large egg white

 

Coconut oil spray

 
Directions
In a bowl, combine IsaLean Shake, gluten-free flour, baking powder, and cinnamon. In a separate bowl, whisk together almond milk and egg white until combined. 
Add the wet ingredients to the dry ingredients, whisking until blended. 
Heat a nonstick sauté pan over medium heat, then lightly coat with coconut oil spray.
To create each pancake, spoon 3 tablespoons of the batter into the hot pan, until all batter has been used. Let cook 2 minutes, flip, and cook on the opposite side for an additional 1 1⁄2 minutes. 
Birthday Cake Protein Cupcakes With Frosting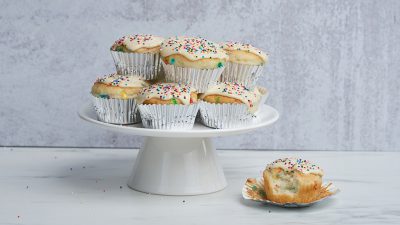 Ingredients
3 scoops Birthday Cake 

IsaLean

 Shake

 

¾ cup almond flour (or flour of your choice)

 

1 tsp baking powder

 

¾ cup unsweetened vanilla almond milk 

 

¼ cup melted coconut oil or vegetable oil 

 

½ cup Greek yogurt (vanilla or plain)

 

1 large egg
IsaPro Cupcake Frosting 
Ingredients
4 oz cream cheese 

 

1/3 cup Greek yogurt

 

1 ½ scoops Vanilla IsaPro 

® Whey Protein
Directions
Heat an oven to 165 C, and line a 12-muffin tin with cupcake liners or baking cups. 
Mix the dry ingredients in a large bowl and set aside. Gradually add the milk, yogurt, oil, and egg to the dry ingredients. Stir until smooth. Transfer the batter to the cupcake liners as evenly as possible. Each liner should be around 3/4 full. 
Bake for 20-22 minutes or until a toothpick comes out clean. Avoid overcooking as protein treats run a higher risk of being dry/tough with overcooking. While your protein cupcakes cool, mix the frosting ingredients in a bowl with a handheld or standing mixer. 
Once the cupcakes have cooled completed, frost your cupcakes, and enjoy!