Although Australia had its chance to shine with yesterday's IsaBody Challenge® Global Grand Prize Winner, today a Kiwi stole the limelight.
New Zealand's first Isagenix® Millionaire* Gabrielle Deane continued her miraculous year by winning the Founders Award at Global Celebration's Gala Awards. The Founders Award recognises an Associate who embodies the Isagenix culture and someone who's made extraordinary efforts to grow their business.
Being hand-picked from thousands of Associates around the world by the Isagenix Executive team is something Gabrielle doesn't take lightly.
"I'm so grateful to Jim, Kathy and Erik for giving me this vehicle to follow my purpose in life and to live an extraordinary life," she said while accepting her award.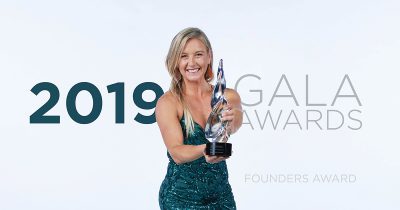 People who know Gabrielle Deane (it would be hard to find someone who doesn't!) know that she lives and breathes Isagenix – right down to her #StartYourLife tattoo. Although she's almost accomplished everything possible in the world of Isagenix, there's still more work to do to empower the next generation of network marketers.
"You are not one drop in the ocean, you are the entire ocean in a drop," she said. "Every single one of us is powerful beyond measure, beyond what we can even fathom. Like all of you, I'm just getting started."
Even after reaching millionaire status with Isagenix, the inspiring entrepreneur has shown no signs of slowing down. Having spent months earlier this year travelling to Los Angeles and Miami before road-trippin' across Canada, Gabrielle eventually made her way across the pond to the United Kingdom. Despite her crazily busy schedule, Gabrielle still found a way to keep building her business globally.
When people ask her what Isagenix is, she has a straightforward answer.
"Isagenix is whatever you're looking for – with no limits. Whether you want personal growth, health transformation, online income, residual income, world travel, energy, weight loss… whatever it is you're looking for, this is it."
Earnings Disclaimer
**Earning levels for Isagenix Independent Associates discussed here should not be construed as typical or average. Income level achievements depend on individual Associate's business skills, personal ambition, time, commitment, activity and demographic factors. For average earnings, refer to www.ANZ.IsagenixEarnings.com.
Isagenix Millionaires are defined as Isagenix Associates who have cumulatively earned $1 million or more with Isagenix.