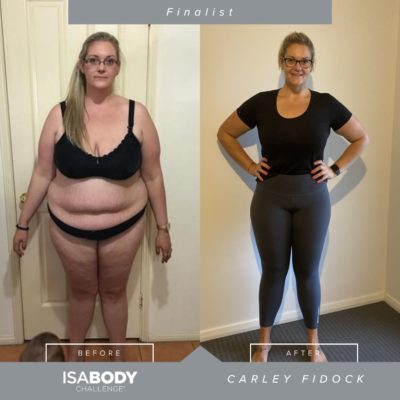 Carley Fidock
Age: 36
Location: New South Wales, Australia
Challenges Completed: 15
Before starting Isagenix, Carley was fighting to make it through the day, feeling constantly fatigued and embarrassed with the way she looked, struggling to spend time with her children and suffering from a thyroid condition. Unable to lose weight, and forever feeling exhausted Carley was hindering her life and time spent with her family and knew something had to change. 
With nothing to lose and inspired by a friend's transformation, Carley dedicated her focus to the IsaBody challenge educating herself on adequate nutrition and determined to make a difference. Now onto her 15th challenge, Carley has lost an incredible 70kgs, gained 8kg of lean muscle and found herself with new energy and unrecognised confidence. 
Embracing a whole new lifestyle, Carley thrives off being a happy, healthy mum for her children, is feeling amazing and most importantly loves the skin she's in.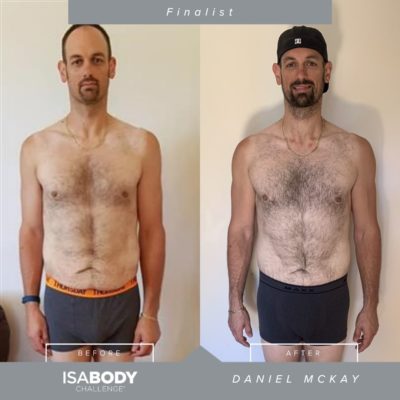 Daniel McKay
Age: 36
Location: South Australia
Challenges Completed: 6
Despite being skeptical and letting his products sit on the bench for weeks, Daniel started with Isagenix back in 2017 weighing over 155kgs and "totally lost with no control of my health or my life." With an extremely sick wife at home, and poor relationship with his kids and life, Daniel was determined to transform his lifestyle and become a better husband and father. 
"Almost immediately after starting I began to feel better. I lost a staggering 28kgs in my first 90 days and all of a sudden, my life was on a completely different path!" Thriving off his results, with consistent effort and commitment, Daniel had lost 60kgs in 12 months and completely revitalised his health. 
Proud of how far he has come, and feeling fit, healthy and strong, Daniel has finished top 5 at a national indoor cricket tournament, built lean muscle, sculpted his body and most importantly reconnected with his wife and kids.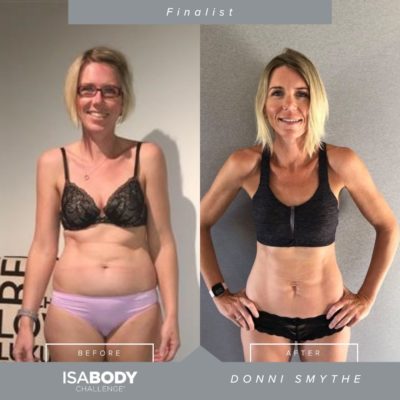 Donni Smythe
Age: 43
Location: Cambridge, New Zealand
Challenges Completed: 11
For 19 months Donni has been in a world of pain, dealing with grief the best anyone can. Constantly overwhelmed and struggling to get through each day, she had resorted to eating her emotions. 16 weeks ago, Committing to the IsaBody challenge, Donni made the decision to stop with bad food and alcohol and become the happy, healthy mum her kids deserve.
10th October was Donni's last drink, focusing on her health and dealing with grief and heartbreak in a healthier way. She found motivation in running, and pushed herself to run further and faster, even competing in 12k and 15k events.
"My mindset had completely shifted. I went from struggling to motivate myself, to needing to get out and run. Needing to run further. Feeling so accomplished when I set a personal record, or I ran further."
Although still utterly heartbroken, Donni is proud of what she sees in the mirror, and back to being the best mum for her children.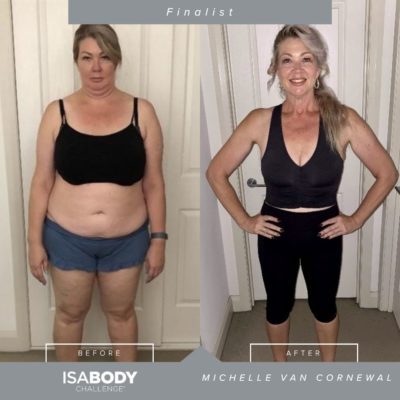 Michelle Van Cornewal 
Age: 50
Location: New South Wales, Australia
Challenges Completed: 3
The odds were stacked against Michelle, with a family history of Diabetes, Heart Disease, Kidney Failure and Obesity paving a path for her future. After having children over 20 years ago, Michelle has been unable to take control of her weight resulting in 130kgs, overwhelming pain, lack of energy and embarrassment by 2019. 
"My whole world was feeling out of control – relationships, work, not exercising and eating all the wrong foods, it was a vicious cycle that I knew I had to get out of." Fed up with self-criticism, and lack of motivation, Michelle adopted Isagenix to turn her life around and avoid being another family statistic for bad health. 
3 challenges in, dropping an indescribable 49kg, Michelle embodies mental and physical strength no longer being pre-diabetic with a newfound radiance. "I'm shopping anywhere I like, my energy levels are through the roof, I've been promoted at work and now putting myself out there to start dating again. I feel confident and happy in myself."