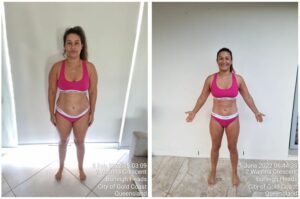 Natasha Fernandez
Age: 39
Location: Burleigh Heads, QLD
Challenges Completed: 15
When you have experienced the low of lows, the high of highs are certainly felt on a whole new level. That's what makes the journey so unforgettable, and Nastasha's IsaBody experience was no exception to this.
After her second child, Natasha like most new mothers carried excess weight from pregnancy. Being nicknamed 'Big Mama', her self esteem and confidence plummeted, to the point where she felt too insecure to go to social events and even leave her house.
"I was so big I was embarrassed to leave the house just in case someone I knew saw me, and I said no to all social events. I just didn't feel like me and the person I was before."
But Natasha turned it all around. Armed with the "amazing (Isagenix) nutrition plan", and regular gym, Natasha mastered commitment and consistency to happily say goodbye to Big Mama, and hello Fit Mama!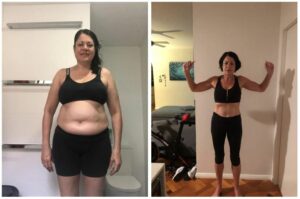 Vicki Sweeney
Age: 55
Location: Kingsford, NSW
Challenges Completed: 2
Sydney's second lockdown during the COVID19 pandemic shook most out of routine. Unfortunately for Vicki, this was regular fitness, where the cancellation of a getaway left her health and wellness goals as an afterthought.
Coming out of lockdown was when Vicki faced her hard truth, realising how much she no longer felt like herself, as well as coming to terms with a lifelong struggle of never being happy with how she looked.
"I have always battled with my weight since a teenager and to be open and frank I have never truly been happy with how I looked, just a few short periods but the exercise and diet that got me there was not sustainable."
Now, with 2 Isabody Challenges under her belt, Vicki feels incredible! She is focused, positive and energised, and is so thankful for Isagenix and all the supportive individuals that have helped her make change.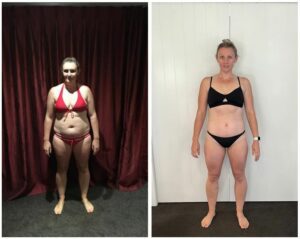 Cyndi Butcher
Age: 37
Location: Hamilton, New Zealand
Challenges Completed: 11
Creating the best version of yourself is a long hard road, and support in any form is necessary for the journey. For Cyndi, this was using the Isagenix nutritional plan for the past 4 years to achieve phenomenal results.
But it wasn't Isagenix alone. Cyndi committed to waking up at 5:30am daily to leave behind her motherly and work duties to hit the gym and focus on herself. And she's not looking back.
"The small window of time allowed me to take my mum/wife/work and everyday stressors hat off which resulted in an explosion of endorphins and weight off my shoulders."
About to embark on her next 8 Week gym challenge, Cyndi has overcome the challenges, and committed to her new lifestyle so she can inspire her children to love and live life to the fullest.