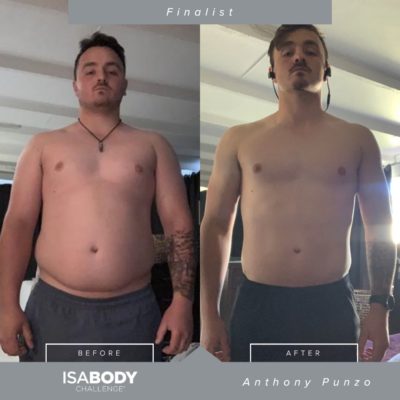 Anthony Punzo
Age: 26
Location: New South Wales, Australia
Challenges Completed: 3
Struggling to maintain a healthy weight, the IsaBody Challenge was a "no brainer" for Anthony. With limited access to the gym, Tony was in search of a sustainable system to keep him accountable and track his progress.
Anthony's transformation is so much more than his appearance – he has truly invested in his overall wellbeing and undergone a complete mental and physical shift. With no more time for excuses, Anthony has traded "I can't" and "I'm not good enough" for an abundance of confidence and pride.
Well on his way to creating the person he wants to be, Anthony dove headfirst into the unknown to take a chance on becoming the happiest, healthiest, best version of himself. "Today marks the 1-year mark of my accepting the person I was in the moment and taking action towards the person I wanted to be"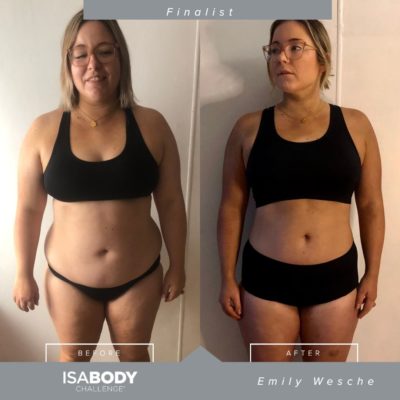 Emily Wesche
Age: 25
Location: Victoria, Australia
Challenges Completed: 1
Since Emily was little, she's dreamt of walking down the aisle to her perfect man wearing that perfect wedding dress and finally in January 2019, her longtime boyfriend had popped the question. Although absolutely thrilled with the idea of getting married, Emily faced the tough realisation of her dream dress slipping away due to bad habits, fast-food dinners, and minimal exercise.
Weighing 116kg's at 25 years old, Emily had tried all the fad diets and tormented her body through rollercoaster approaches. Turning to Isagenix, she found a solution beyond weight loss… Just 3 weeks in, her energy improved, her mood changed, and she started to feel a newfound confidence.
"As of August 2021, I have lost 14.7kgs on Isagenix. I have completely changed my lifestyle, I now enjoy daily exercise, dressing myself every morning and my confidence levels are growing."
Emily's wedding date is coming up this year and we are sure she will not only look incredible in her dream dress, but feel proud and exude her new found confidence!
Kristy McCartney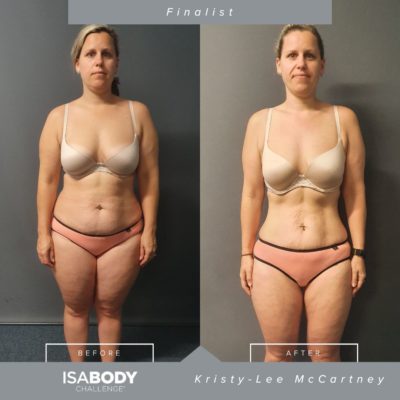 Age: 33
Location: New South Wales, Australia
Challenges Completed: 1
Feeling lost, Kristy was ashamed of the person she saw in the mirror and disgusted by the way she felt each day. Working full time and being a mum of two beautiful children, Kristy was short on time, constantly overwhelmed and struggling with her weight and lifestyle.
Skeptical at first, Kristy was empowered by the community around her and decided to invest in her wellbeing by starting with Isagenix. After just 30 days, Kristy had lost 7kg's and could not only see, but feel the healthy change she was making to her life. 16 weeks later and she has lost an incredible 15kg's and welcomed energy and confidence back into her life.
Beyond her transformative weight loss, the convenience of Isagenix has allowed Kristy to manage her busy lifestyle in a healthy and sustainable way. Excited to see where her journey continues, Kristy is well on her way to achieving every goal she sets.
"I am still learning so much about not only Isagenix but myself and I feel stronger, healthier and happier than ever before."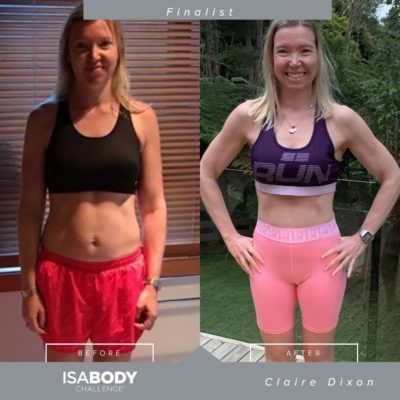 Claire Dixon
Age: 47
Location: New Zealand
Challenges Completed: 12
11 Challenges in, Claire continues to prove you can do anything you set your mind to. Powered by her 'why' and not letting anyone or anything get in the way of her goals, Claire has overcome spinal surgery for a disk injury and managed to still stand proud and compete on the bodybuilding stage.
Factoring Isagenix into her daily routine as well as targeted nutritional plans when competing, she has won the novice Figure class for NABBA WFF Auckland and has her sights set on bigger goals for the future. In reflection, Claire remains proud, energised, and excited about her future, and where Isagenix, her mindset and her training can take her.
"With Isagenix, my community and my products I know I will level up to another insane goal and I can't wait to be staring it down in the near future."
Tracy Walker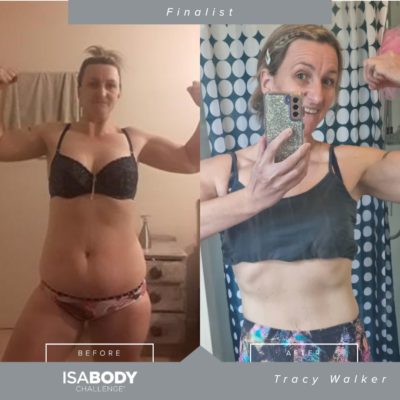 Age: 36
Location: New Zealand
Challenges Completed: 3
After completing two challenges already, Tracy found her third the toughest… Alongside a stressful year, she allowed old habits to creep back in and let the excuses become louder than her why. Feeling tired, lethargic and grumpy all over again Tracy realised the need to reignite the fire inside.
Reaching out to a community that has never failed her, Tracy was met with encouragement, love and motivation to fuel her journey. Supported by her incredible husband and pushed by the energy of her kids wanting to work out, Tracy found strength in her tribe to smash the challenge and continue her healthy lifestyle.
"We are in it together as a tribe to do our best to reach for those goals all while inspiring others to do the same. Happy, healthy living is where it's at for us with the fun and freedom of still being able to enjoy movies, popcorn and Friday night fish n chips."
Achieving everything she puts her mind to, Tracy is embracing a rewarding life of freedom, joy and energy and looking forward to her next challenge.