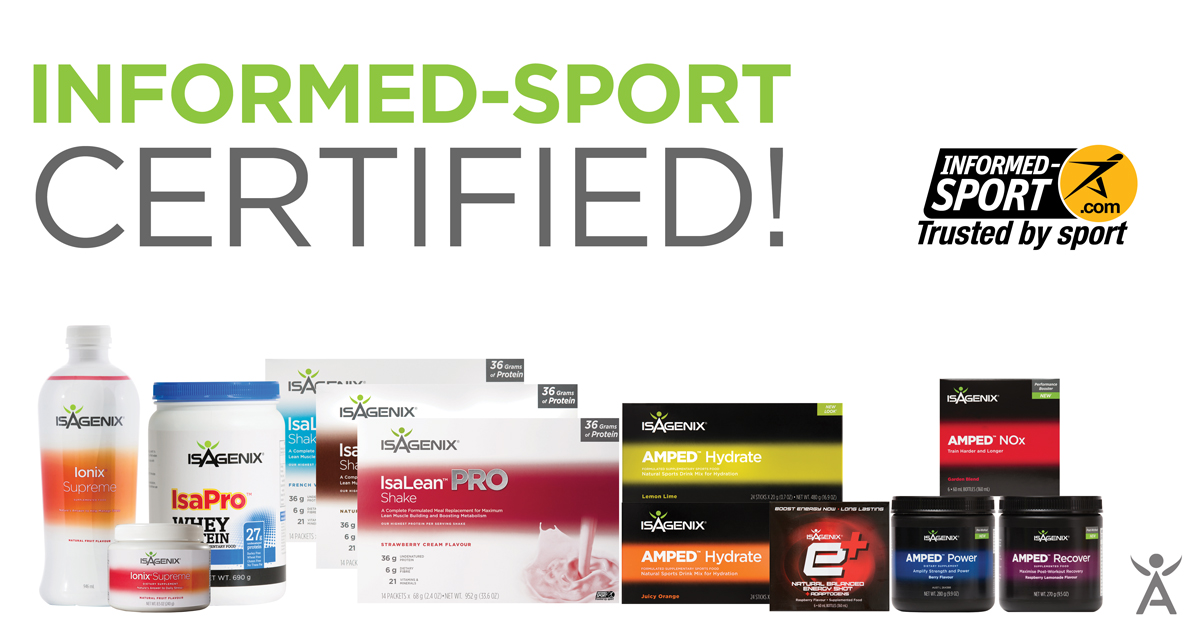 Isagenix® has always taken pride in its no-compromise approach to quality and efficacy when it comes to products and ingredients. With the recent addition of a highly successful performance supplement range, the next logical step was to ensure compliance with national and international anti-doping bodies.
Isagenix has partnered with Informed-Sport, which provides quality assurance of sports supplements for athletes and active people.
What is Informed-Sport?
Informed-Sport is a quality assurance program that tests sports supplements and ingredients in a world-class anti-doping laboratory. The program was developed to minimise the risk of banned substance contamination in sports supplements.
How does Informed-Sport work?
First, the manufacturing process of supplements goes through a rigorous assessment which involves a questionnaire and sample testing. Once a product is certified, every manufactured batch is tested for a wide range of substances banned in sport by the World Anti-Doping Authority (WADA). All compliant batches are able to show the Informed-Sport logo on their packaging.
Which Products are Informed-Sport Certified?
The entire ANZ Performance line, IsaPro™ and Ionix® Supreme.
–          e+
–          AMPED™ Power
–          AMPED Recover
–          AMPED NOx
–          AMPED Hydrate
–          Ionix Supreme liquid
–          Ionix Supreme powder
–          IsaLean™ PRO Natural Chocolate
–          IsaLean PRO French Vanilla
–          IsaLean PRO Strawberry Cream
–          Replenish™ Lemon Lime
–          Replenish Juicy Orange
–          IsaPro
What are the benefits of Informed-Sport certification?
As each and every batch of certified products are screened for banned substances before being allowed to carry the Informed-Sport logo, athletes and active individuals can have confidence in using their favourite Isagenix products during both training and competition. Informed-Sport is recognised by a growing number of international organisations, including WADA, Australian Sports Anti-Doping Authority (ASADA), Australian Institute of Sport, Drug-Free Sport New Zealand, High Performance Sport New Zealand, the NRL and AFL.
Be on the Lookout for Updated Packaging
Though now officially Informed-Sport certified, not all packaging reflects the new label we're proud to have earned. Keep an eye out over the next few months as updated packaging rolls out with the Informed-Sport certification and rest assured that all the above products have been tested and are free of banned substances even if this is not yet reflected in the packaging.
For additional peace of mind, verify your product certification by visiting Informed-Sport.com and insert your product batch number (lot number) found on the label or bottom of your product into the 'Registered Product Search'. Check out the FAQS here for a shareable way to introduce the Informed-Sport certification to your team or potential Customers.