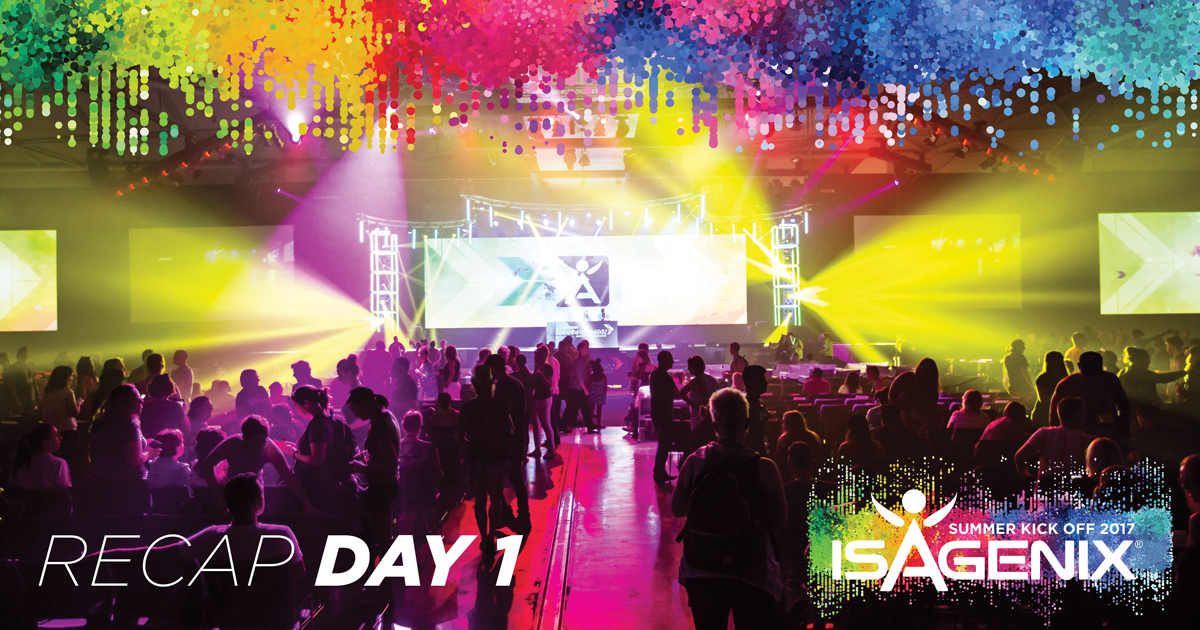 Day 1 at Summer Kick Off has wrapped up and what a massive day it was! Brisbane buzzed with anticipation as 1500 Associates packed into the Royal International Convention Centre today, eagerly awaiting the surprises that the day revealed.
To start the day, President and Chief Operating Officer, Travis Ogden, took to the stage to highlight the importance of the Isagenix culture and how committed we are to taking Australia and New Zealand to the next level and into the future.
Jaws dropped as the Round 2 IsaBody Challenge® Finalists for 2017 were announced by IsaBody Challenge Grand Prize Winner 2016, Sarah McMinn!
The crowd went wild as FOUR new products were launched in the ANZ market live on stage. First up we were introduced to the brand new addition to the IsaLean™ PRO family, IsaLean PRO Strawberry Cream flavour, followed by the highly anticipated IsaLean™ Bar Lemon Passion Crunch, then finally the longed-for missing pieces to the dairy-free Solution; IsaLean™ Shake Dairy Free Vanilla Chai and Isagenix Snacks™ Dairy Free Natural Wild Berry. Missed out on the launch? Check out the live feed on Facebook at Isagenix ANZ.
They weren't the only exciting announcements however – Isagenix® is proud to announce that the entire Isagenix Performance Line is now Informed-Sport certified! Sharing the science behind Isagenix products and educating us all on the nutrition of them, Sara Richter, Product Education Manager, provided helpful insights into how these products are formulated.
In the afternoon, our first keynote speaker, Isagenix Millionaire*, 14 Star Platinum, 15 Star Crystal Executive, Jen Patch, shared how to get people to tap into their 'why'. Touching on her own journey of self-doubt, Jen walked attendees through how to build belief and achieve the life you desire.
Wrapping up an epic day, Colin James, Learning and Development Facilitator and Australian Educator of the Year, got everyone out of their comfort zone and into the learning zone, demonstrating to attendees how they can shift, grow and develop into strong leaders.
Tomorrow is Day 2 of #SKO2017 and we have the honour of kicking off the day with Make-A-Wish® recipient, Rhiannon. She'll share her incredible story and how Make-A-Wish supported her on her journey back to health and everything they do for children suffering from serious illness.
Throughout the day we'll recognise those who are leading the way in Isagenix, embodying the culture and working hard to change lives across Australia and New Zealand. Our international keynote speakers Isagenix Millionaires, 8 Star Platinum, 7 Star Executives, Angelike and David Norrie, will also close the event in what is set to be an unforgettable piece.
Love lives updates? Check out our Isagenix ANZ Instagram and Facebook pages to keep in the loop with what's going on at #SKO2017.
*Isagenix Millionaires are defined as Isagenix Associates who have cumulatively earned $1 million or more with Isagenix. Earning levels for Isagenix Independent Associates that appear in this publication are examples and should not be construed as typical or average. Income level achievements are dependent upon the individual Associate's business skills, personal ambition, time, commitment, activity, and demographic factors. For average earnings, see the Isagenix Independent Associate Earnings Statement found at IsagenixEarnings.com.