This October, join the Coovers for the trip of a lifetime to London, England!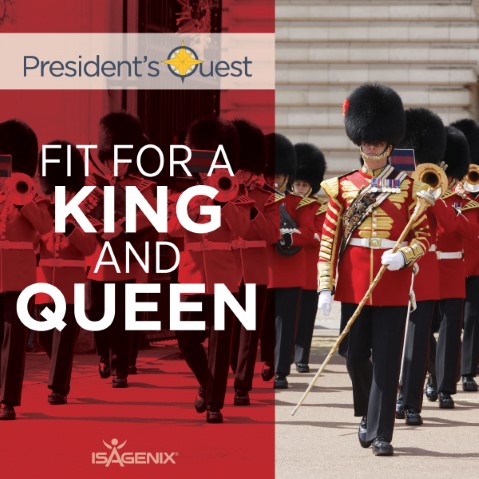 Are you wondering how YOU can join them on this incredible adventure?!
The top eight Millionaire in Action point-earning businesses worldwide from July 2016 to June 2017 will qualify for this incredible retreat by showing consistent business growth through four key business-building activities: personal Cycle growth, personal enrolments, personally sponsored rank advancements and the maintenance of Executive or higher.
You still have two months to qualify, so get into action!
Fit for a King and Queen
As a 2017 President's Quest winner, you will embark on a luxurious journey to stunning London for seven days and six nights where you will enjoy lodging at the beautiful Savoy Hotel. Here, you'll be treated like royalty as you explore iconic destinations like Big Ben, Buckingham Palace and the London Eye.
You will have a hard time finding better company to spend this one-of-a-kind experience with. Not only will you be joined by Jim and Kathy Coover but you'll also be surrounded by your fellow President's Quest winners and members of the executive team!
Who's in the Running for President's Quest 2017?
There are still have two more months to grab your spot on this incredible journey, so continue to work your business with passion and dedication! Check out the top 50 businesses through April 2017 that are in the running for President's Quest.*
Lindsey & Peter Wynia
Narelle & Richard
Julia & Jay Johnson
Jackson Parr
Gayle Connole
Adam Nesbitt & Bianca Bathurst
Kim Aliprantis
Sandra Davidson
Michelle Fuller & Darrin Vassallo
Cindy Franco
Michael Barker
Debi & Jeff Beebe
Mackenzie & John Arball
Rita Catolino & Dario Garcia Cabezas
Lloyd & Alisha
Lara Nicholls
Gabrielle Deane & Grant Pearce
Robin Belfrey
Dr. Joshua & Lisa Dunsky
Sarah & Chad Towe
Treslie & Ryan Frey
Tanya & Richard Renard
Jennifer Fisher
Delrae Messer
Dana & Mike Lombardi
Rachel Gershowitz
Abby & Dylan O'Neil
Pierson & Christine Galicinao
Lindsay & Cory Hoffbuhr
Ryan & Becca Johnson
Jen Rothbart
Alvie Shepherd
Rob & Kim Murgatroyd
Sybil & David Imel
Holly Danielle
Carol Elizabeth & Michael Grayer
Lisa & Shane Crosbie
Carla Ashley
Brittney Kara McLaughlin
Susanne Zavelle
Jo & Paul Mould
Corey & Cindy Peterson
Carlita Tohtz
Ben & Lori Mecham
Danny & Tammy Yaggey
James & Tammy Mould
Sara Farnsworth
Jen & Adam Feichter
Denise Delaney White
Michelle & Jason Derbyshire
For more details on President's Quest and how you can earn your way to London, check out the full flyer. To track your progress and see how you're doing, check out the leader board in your Back Office.
The ability to earn income under the Isagenix Team Compensation Plan depends on many factors including an individual Associate's business, social and sales skills; personal ambition and activity; availability of time and financial resources; and access to a large network of family, friends and business contacts. Isagenix cannot and does not guarantee any particular level of earnings. Even Associates who dedicate a significant amount of time, effort and personal funds may not achieve a meaningful level of success. For average earnings, please refer to the Isagenix Earnings Disclosure Statement at IsagenixEarnings.com.
*These are the overall Top 50 Leader in Action point-earning businesses between July 2016 and April 2017. Complete promotion dates are July 2016 through June 2017 and are based on the 4-4-5 calendar.