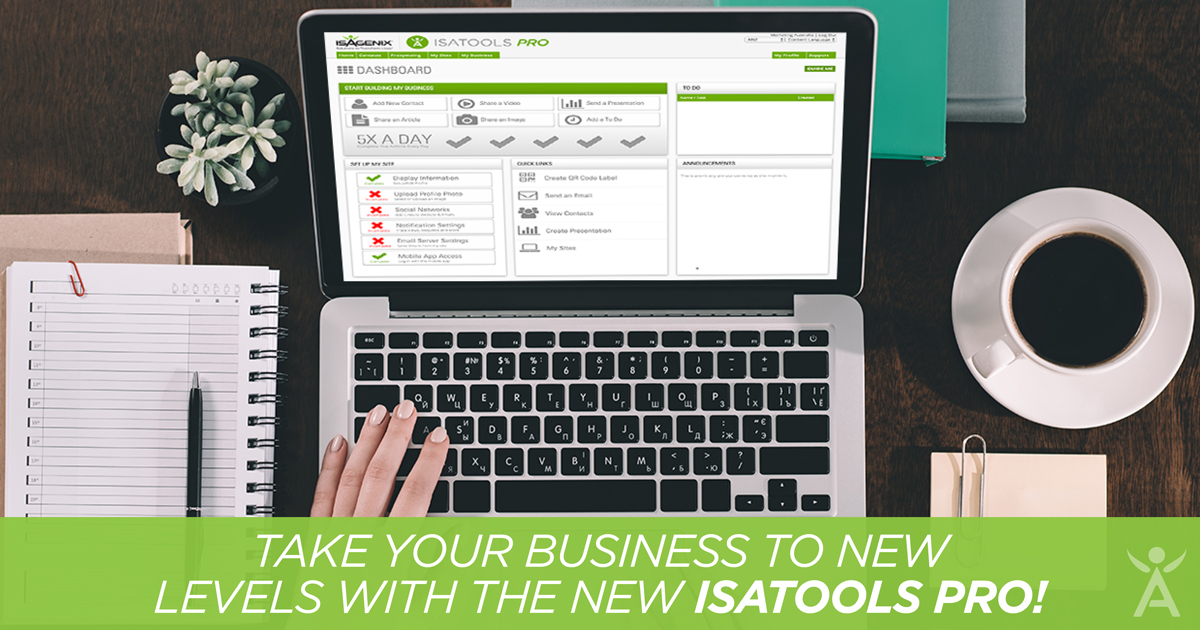 Your business is wherever you are with the IsaTools To Go™ app and the brand-new IsaTools™ Pro platform! The IsaTools To Go app is your go-to business centre to share all of your favourite videos, 'before' and 'after' photos, PDFs and enrolment tools – right from your phone! IsaTools Pro is an upgrade to the IsaTools To Go app for Customer coaching features on your computer.
Streamline, Simplify and Track How You Share With the IsaTools To Go App
Download the IsaTools To Go app and start sharing Isagenix with the press of a button! Sync your phone and social media contacts to share:
The entire Isagenix video library
PDFs (Product Information Sheets, system guides and more)
Social media images
IsaBody Challenge® Look Book
Success stories and so much more!
What's even more exciting about this business-building tool is that you will receive real-time updates the moment your contact opens the information you sent them so you know when the time is right to follow up! The IsaTools To Go app helps you stay on top of the materials you share, with whom and how you share it. Send a quick text, post directly to any of your social media accounts or deliver an email. It's that simple!
The Game-Changing Added Benefits of the IsaTools Pro Upgrade
By upgrading to IsaTools Pro, you can enjoy all the features of the IsaTools To Go app and gain access to an even more powerful Customer relationship management system from your laptop. Drop your Customers into carefully designed coaching campaigns to help them stay in touch with you.
Step up your game as an accountability partner by adding every new Member to an IsaTools Pro coaching campaign designed to keep them motivated and working toward their goals. Select the sort of campaign that fits their needs, set the start date and they will begin to receive messages from the IsaTools Pro system. Through IsaTools Pro, you will also have access to see how your Customers engage with your coaching communications.
Leading Today, Improving Tomorrow
At Isagenix, we innovate! Not only is IsaTools Pro a leap in technology advancement, it's also more cost efficient through the combined benefits of the IsaTools To Go app!
Check Out the App with a 30-Day Free Trial!
Eager to trial the IsaTools To Go app and IsaTools Pro platform? You're in luck! All members who download the IsaTools To Go app between 10-24 June will receive a 30 day free trial! How amazing is that?
If you love the app after your 30 day trial, you can purchase the IsaTools To Go app for just AU/NZ$9.95 per month or receive the full menu of benefits with IsaTools Pro for AU/NZ$14.95 per month. You may cancel any time but once you see the convenience and power of these sharing tools, you won't want to!
Log in to your Back Office.
Go to the 'Resources' tab and select 'Go to Isa Tools'
Select your Membership level
Once your purchase is complete, download the IsaTools To Go app from the App Store or Google Play
Log in with your Isagenix Back Office credentials
IsaTools Pro Users – Complete the steps above and then using a laptop or desktop device:

Log in to your Back Office
Go to the 'Resources' tab and select 'Go to Isa Tools' to redirect to your web portal
It's time to take your business into the digital age with IsaTools To Go and IsaTools Pro! Get started today.