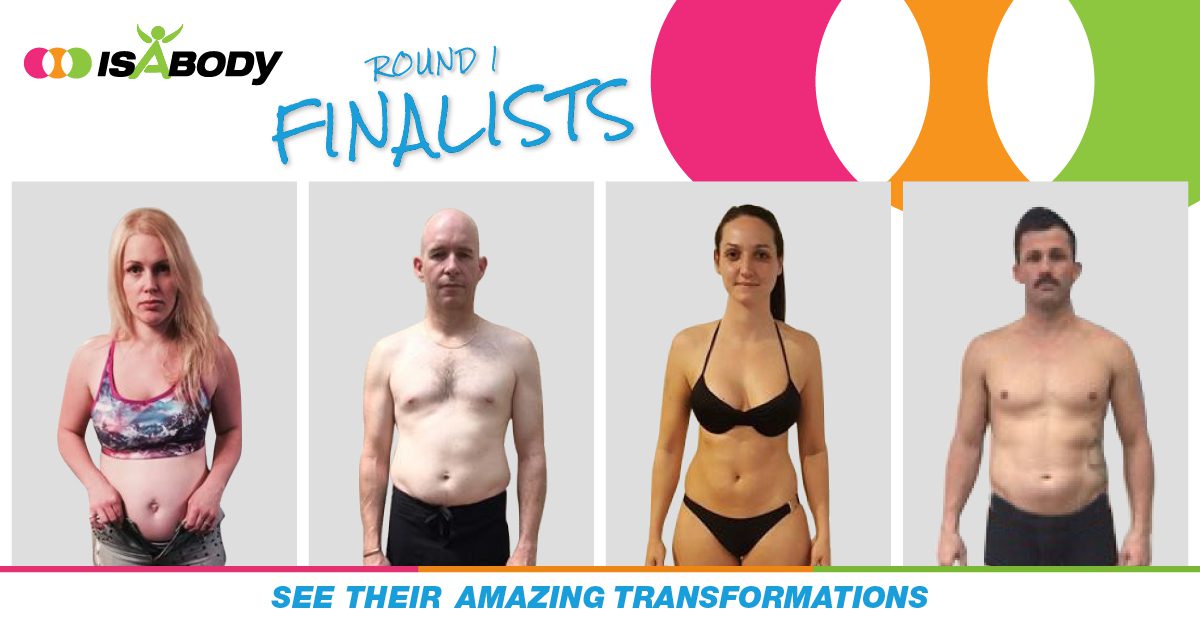 Lisa Gadsby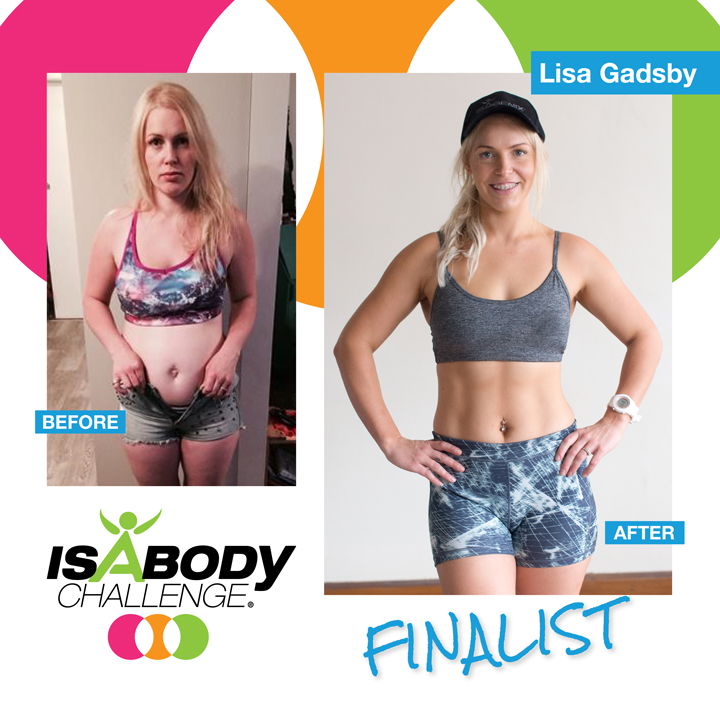 Age: 27
Hometown: Wanganui, NZ
Weight Released: 10 kg
After the birth of her first child, Lisa struggled to get through each day. Running on short blocks of sleep, Lisa felt mentally and physically weak. Just twelve months after giving birth to her first child, Lisa fell pregnant with her second, left wondering how she was going to cope with two children under two.
Unhappy with her reflection in the mirror, Lisa was prompted to reflect on who she had become over the past two years. "I had lost my fire," shares Lisa. "I wondered where my creativity, productiveness and overall happiness had gone. I knew I needed to pull myself out of the rut I was in, not just for myself but also for my children."
After witnessing her partner experiencing great results using the Isagenix® system, Lisa decided to give the products a try for herself and began using the system three months after giving birth to her second child. "It was exciting, I began to see changes in my energy soon after starting," says Lisa. "I began to sleep better and had the energy to put a routine in place for my babies and myself. I had been inconsistent for so long. It didn't even matter that I'd been up 15 times the night previously, I was still feeling energised."
Enroling in the IsaBody Challenge® as a way to keep accountable and challenge herself, Lisa began exercising in the early mornings and her confidence, creativity and passion began to grow. "I felt confident enough to share my journey and be the inspiration I know other mothers need," says Lisa. "The IsaBody Challenge has allowed me to not only find my purpose but also to share it with others and make them feel as great as I now do. The Challenge has changed my life in so many ways and I am grateful for it everyday."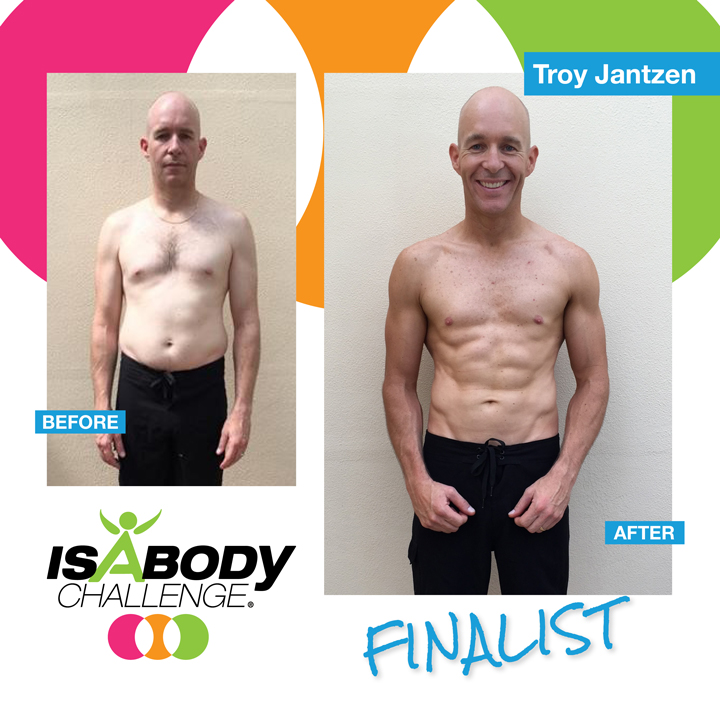 Troy Jantzen
Age: 41
Hometown: Glandore, SA
Weight Released: 8 kg
Troy was on the hunt for a solution. Eager for change but lacking motivation, Troy felt ashamed of the way he looked and what he had become. "Slumped on the lounge, TV remote and chocolate beside me was common," shares Troy. "I yearned for a way to change but I was drained of energy and motivation."
When Troy's wife, Anne, started the Isagenix system, Troy jumped on board right away. "The first couple of months using the system was great," says Troy. "I was able to discard the XL clothing and bought my first size M. I was feeling confident fit and happy."
Two years into using the products is when things began to really change for Troy. "At Summer Kick Off 2016, I felt overwhelmed with emotion when I saw the IsaBody Finalists step on stage," shares Troy. "I made a decision to step it up for my 5th IsaBody Challenge. It was going to be different to all the others."
Although proud of the changes he'd already made, Troy's purpose and passion had shifted. "This Challenge was different because it was about being proud of my body and inspiring others," explains Troy. "I wanted to show everyone that a normal husband, father and corporate executive could have a body that I'd previously thought only possible for personal trainers and competitive athletes."
Humbled by the response he has received from others inspired by his IsaBody progress, Troy has no intention of slowing down. "I've inspired my kids and we keep active together now as a family," says Troy. "Thanks to the IsaBody Challenge, my whole family is happier, stronger and fitter than ever. I'm so proud to have aligned myself with a company that strives to give back and inspire."
Fernanda Gasperoni

Age: 29
Hometown: Auckland, NZ
Weight Released: 10 kg
As a Muay Thai fighter, health and fitness has always been a priority for Fernanda. Keeping her weight stable ensured she'd be ready to fight however during the holiday period, Fernanda's mother visited from Brazil and Fernanda took the opportunity tor relax her usually structured eating plan. In the process, she gained 8 kgs and her confidence took a hit.
Having completed three IsaBody Challenges previously, Fernanda had every intention of making this her best Challenge yet. "I wanted to not only lose the excess weight to regain my confidence," shares Fernanda. "It was about pushing my limits and bouncing back. I also desperately wanted to get back into the ring."
Fernanda contacted her coach, confident she'd be ready to fight in two months. In order to strengthen her mind in preparation of what was to come, Fernanda participated in the Healthy Mind and Body program. "The training got harder, the pressure was mounting but my mindset was stronger than it had ever been," Says Fernanda, "I was ready to win my fight and smash my goals."
Two weeks out from her fight, Fernanda sustained an injury and one week out, her opponent pulled out, requiring her to further challenge herself with a new, more experienced opponent. "I burst into tears when I heard the news," says Fernanda. "Later that evening, I remembered the affirmations I'd written down on my Healthy Mind and Body program. I knew I needed to focus on my mindset, no turning back."
Going on to win her fight, Fernanda also received the 'Most Impoved Fighter of the Year' award. "The IsaBody Challenge helps me to set new goals and regain my confidence," says Fernanda. "I feel the best I've ever felt both physically and mentally. I've already started my next Challenge!"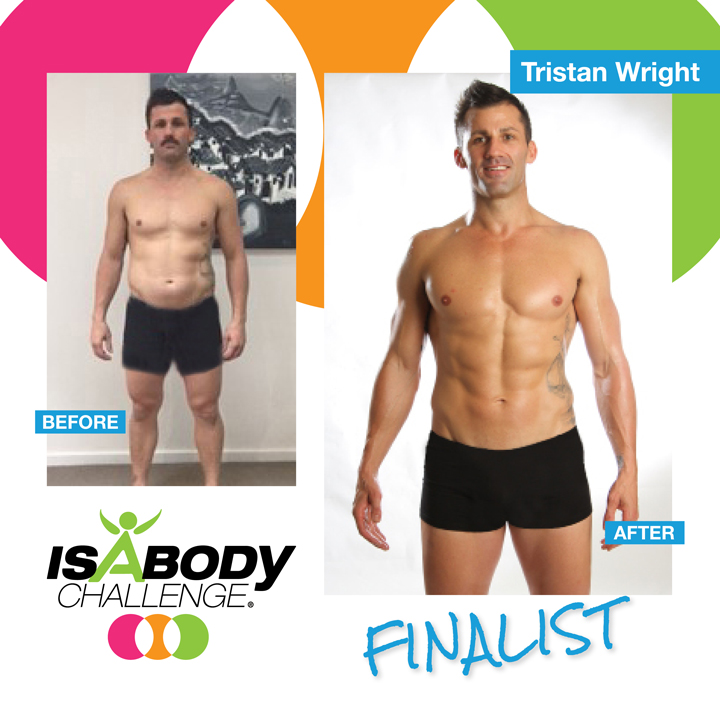 Tristan Wright
Age: 34
Hometown: Sydney, NSW
Weight Released: 10 kg
After completing his first IsaBody Challenge in 2014 and receiving great results, Tristan was motivated to #startcompleterepeat. Unfortunately, Tristan was forced to cancel two of his following IsaBody Challenges due to injuries, resulting in five operations since 2014.
Feeling defeated and unsatisfied, the physical setbacks began to take a toll on him. "I've always had my fitness to fall back on no matter what," says Tristan. "This time, I didn't have that. The thing I prided myself on was taken away from me and I was feeling pretty low."
Giving up was not an option for Tristan, who went on to register for his fourth IsaBody Challenge. "I had doubts especially after having to cancel my two previous Challenges," says Tristan. "I knew I needed to pull myself out of my slump and keep moving forward no matter what."
Although his training ability was limited due to injuries and surgeries, Tristan powered through his Challenge. "This Challenge was more than just a 16-week transformation," says Tristan. "It helped me to push my physical and mental boundaries no matter what was standing in my way. I'm in the best mental and physical shape of my life."
As a father, Tristan draws much of his strength and inspiration from his three year old son, Rocko. "I wanted to do my son proud by not giving up," says Tristan. "I wanted him to look at me and be proud of his dad and set a real example for him. I feel confident that I've achieved that."
"The IsaBody Challenge has been the catalyst to me overcoming numerous mental and physical barriers," says Tristan. "Every single person deserves to feel as good as I do now. I am beyond grateful for the IsaBody Challenge and the supportive community."