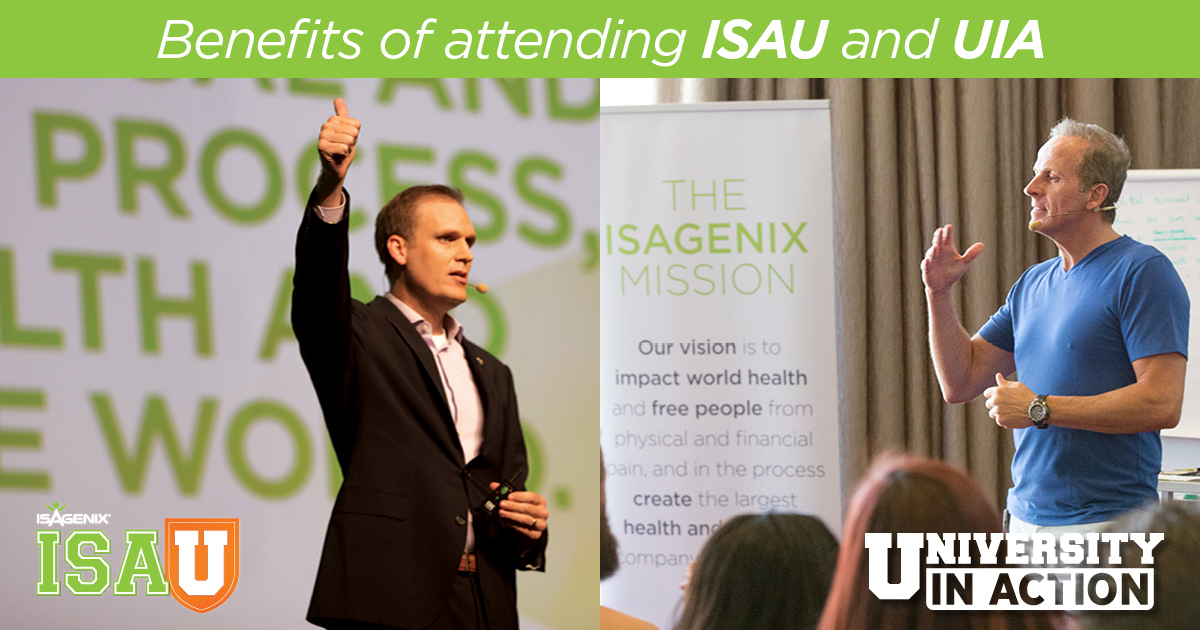 Nothing builds belief like attending an Isagenix® event. Our events educate, motivate and inspire you and your team, creating lifelong memories and setting you on the path to health and business success.
Our IsaU and UIA events are jam-packed with must-have tools, in-depth personal development training and the best business tips around so you leave fully equipped and ready to take your business to a whole new level. Many of our Isagenix Millionaires* and Top Leaders value the significance of plugging into events with team members, to help open doors to unlimited potential and great leadership.
Why you should attend IsaU
IsaU is a pivotal opportunity to learn how to earn residual income and take your belief and business to the next level. Attending an IsaU will strengthen your business by constructively aligning compliant methods of practice with the basic principles of business in network marketing. This will not only help you kick-start your business but it will most effectively outline the measures to achieve personal and professional success. Isagenix Corporate Trainers and Top Leaders will provide you with the tools to help you take the next step and beyond in your business.
Upcoming IsaU events
Auckland, NZ
10-11 June
Aotea Centre
Melbourne, AU
22-23 July
Crown Melbourne

Sydney, AU
21-22 October
Intercontinental Double Bay Sydney
"IsaU Auckland was an incredible event that educated and empowered everyone. Events build belief but they are also the fastest way to learn how to get started sharing these incredible products we have available to us all. This event sent 350 people away with unshakeable belief in the products and themselves." Sandra Castle-Dodson, Isagenix Customer since 2014
Why you should attend UIA
At UIA, the practical and interactive training focuses on building your understanding and growth. The talented David T.S. Wood provides world-class training that will reignite your self-belief, realign your objectives and redefine your individuality. As UIA is so interactive, it provides a great opportunity to initiate friendships and connections with other Associates. On a more personal level, the practical training pushes individuals to action what they have learned over their time with Isagenix.
Upcoming UIA events
Sydney, AU
26-28 May
The Westin Sydney

Auckland, NZ
17-19 November
The Pullman Hotel

Melbourne, AU
24-26 November
Pullman Melbourne on the Park
"UIA is an absolute must for learning how to show up authentically in life, share with ease and become the leader you want to attract in your team. The real test is organisation and leadership. Find out what a great leader means to you and then become that for your team!" Mara Pomana, Isagenix Customer since 2013
Don't forget, tickets are available in your Back Office for ALL 2017 Isagenix corporate events, including Summer Kick Off in Brisbane. And if you're already keen for Celebration 2018, we've got some great news! Celebration 2018 General Session AND Gala tickets are now up for grabs in your Back Office. Get in quick to secure your spot and prepare to take your business to the next level.