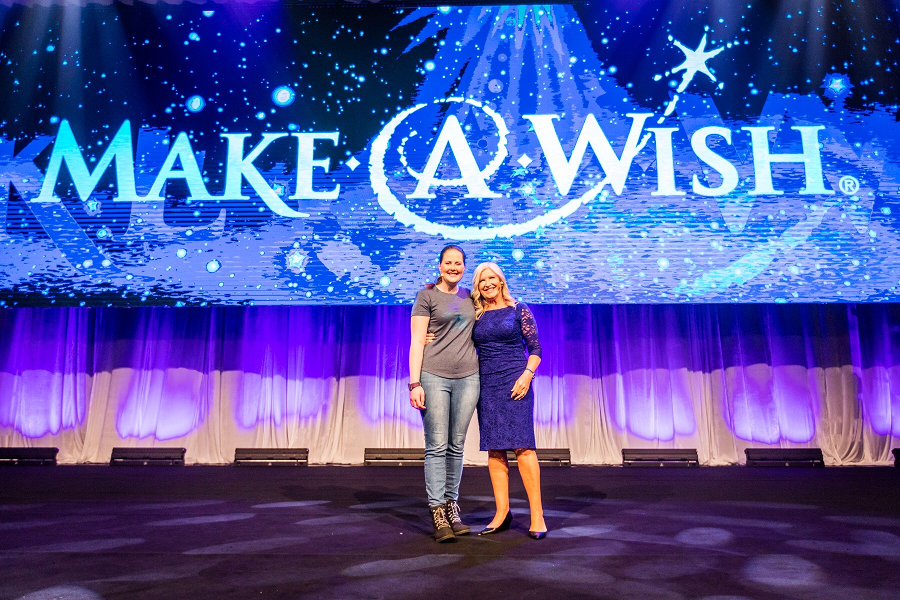 Emotions were high on Sunday at Summer Kick Off as previous Make-A-Wish® recipient, Rhiannon, took to the stage with Isagenix Millionaire*, 8 Star Platinum, 4 Star Executive, Suzanne Skillen, to share her lifelong health journey.
Diagnosed with neuroblastoma, a type of cancer that forms in certain types of nerve tissue, at just 8 months old, Rhiannon spent much of her early childhood seeing the four walls of a hospital.
Although going into remission at two years old, Rhiannon was still at risk of a relapse, missing out on the fun and exciting parts of a typical kid's life as she often wasn't allowed to play outside.
Wishing for a slide and swing set, her wish was brought to life by Make-A-Wish and Rhiannon was able to find hope and expand her imagination with her new slide and swing set.
Going through school, Rhiannon received many accolades, including becoming Captain of the Arts at her school. Now, at 21, she uses her experience and skillset working alongside Make-A-Wish as a volunteer and at a school for children with special needs.
"I've seen how people have helped me through my sickness," says Rhiannon. "I'm motivated to do the same by helping as many people as I can. My goal is to inspire others to keep fighting and not lose hope."
Thanks to Make-A-Wish, 350,000 wishes have been granted to seriously ill children since its inception in 1980. As parents, Jim and Kathy Coover want nothing more than to see every child live a happy, healthy life. As Owners of Isagenix®, they are working to make that vision a reality by partnering with Make-A-Wish since 2012.
With contribution at the core of what we do, it's no surprise that, to date, Isagenix has raised over US$6.8 million globally for Make-A-Wish and these donations have contributed towards over 800 wishes in over 11 countries and changed the lives of these special children forever.
"Our Make-A-Wish reserved seating here at Summer Kick Off has raised an incredible $8,700," says Suzanne. "It's incredible what can happen when we all come together."
We are so thankful for our partnership with Make-A-Wish and the generosity of our incredible Customers. Isagenix ANZ would like to thank everyone who opened their hearts this weekend by purchasing Make-A-Wish Reserved Seating and donating through their Autoship. Your donations are impacting lives and giving hope to seriously ill children.
To join others in making a difference, visit your Back Office and select 'Manage Autoship' under the 'Orders' tab to make a charitable donation on every order. Don't forget, donations of $2 and over are tax deductible!
*Isagenix Millionaires are defined as Isagenix Associates who have cumulatively earned $1 million or more with Isagenix. Earning levels for Isagenix Independent Associates that appear in this publication are examples and should not be construed as typical or average. Income level achievements are dependent upon the individual Associate's business skills, personal ambition, time, commitment, activity, and demographic factors. For average earnings, see the Isagenix Independent Associate Earnings Statement found at IsagenixEarnings.com.