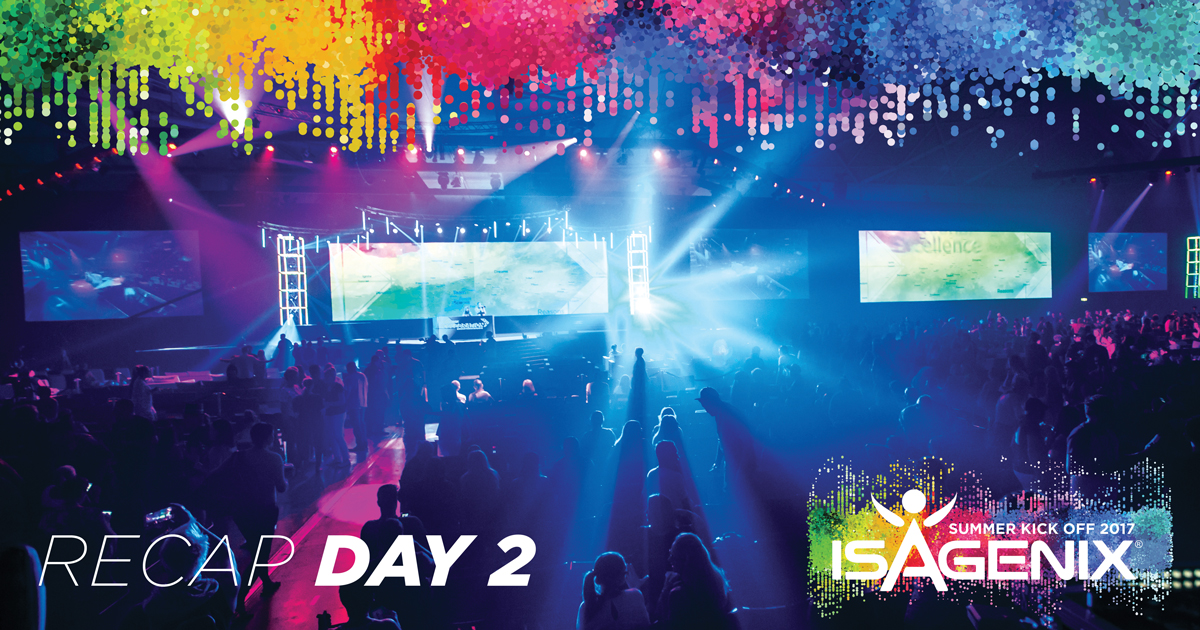 With contribution, gratitude and family at the core of everything we do at Isagenix®, Day 2 of Summer Kick Off opened with heart. Previous Make-A-Wish® recipient, Rhiannon, took to the stage with Isagenix Millionaire*, 8 Star Platinum, 4 Star Executive, Suzanne Skillen, to share her lifelong health journey.
Thanks to the generosity of our Associates, we raised $8,700 through Make-A-Wish reserved seating at Summer Kick Off and much more through the generous donations made through monthly Autoship donations. Check out the post here to see how you can join others in bringing hope to the lives of seriously ill children.
Throughout the day, we recognised those who are leading the way in Isagenix, embodying the culture and working hard to change lives across Australia and New Zealand. In the morning, one very special recognition was announced onstage with the reveal of the Heart of Isagenix Award Winner, Jo Mould. Jo's generous nature and commitment to changing lives, inspires others every day. Congratulations, Jo!
Continuing the good vibes, our international keynote speakers, Isagenix Millionaires, 8 Star Platinum, 7 Star Executives, Angelike and David Norrie, opened their morning piece by capturing the hearts of the audience with their story.
Focusing on demonstrating how to identify connections by looking beyond the surface, SKO attendees were excited to learn from the pair how to overcome fears, be present and connect with intention. "Intention beats agenda," said Angelike. "Agenda doesn't come from a place of love the way intention does."
Pulling from their own experiences and business success, the couple encouraged attendees to dig deeper and go beyond the surface when building connections. "The best way to add value to your life and your business is by adding value to somebody else's life and somebody else's business," they shared. "Connection is the secret ingredient to success and we connect by asking the right questions and encouraging people to dream again."
Kicking off the afternoon session, we welcomed 5 Star Golden Circle, 4 Star Crystal Executive, Lara Nicholls, to the stage. Lara has been setting Adelaide on fire, with her team gaining massive momentum thanks to her incredible leadership. Taking it back to basics, Lara detailed how she leveraged the Isagenix tools available to take her business to new heights.
Our next speakers, Isagenix Millionaires, 12 Star Platinum, 13 Star Crystal Executives, Brett Davis and Samantha Gascoigne nailed down what it means to be a true leader, forcing attendees to assess how they show up on a daily basis to set an example and help create new leaders. "Leadership is a by-product of being totally absorbed in the service of others," said Samantha. "A person who refuses to live below their capabilities in any area of their life."
The end of Summer Kick Off closed on a high, when international keynote speakers, Angelike and David Norrie, continued to discuss the importance of strong leadership and duplication. "It's not the pretty pictures you post on social media that inspires people to be better," said Angelike. "It's the raw, relatable photos that hit home for people."
Want a recap on everything that happened over the weekend? Check out our Facebook, Instagram and ANZ.IsaFYI.com for everything #SKO2017 related. Keen for the next event? Stop by ANZ.IsagenixEvents.com to grab your tickets and keep the momentum going! Celebration 2018 tickets are discounted for a limited time only!