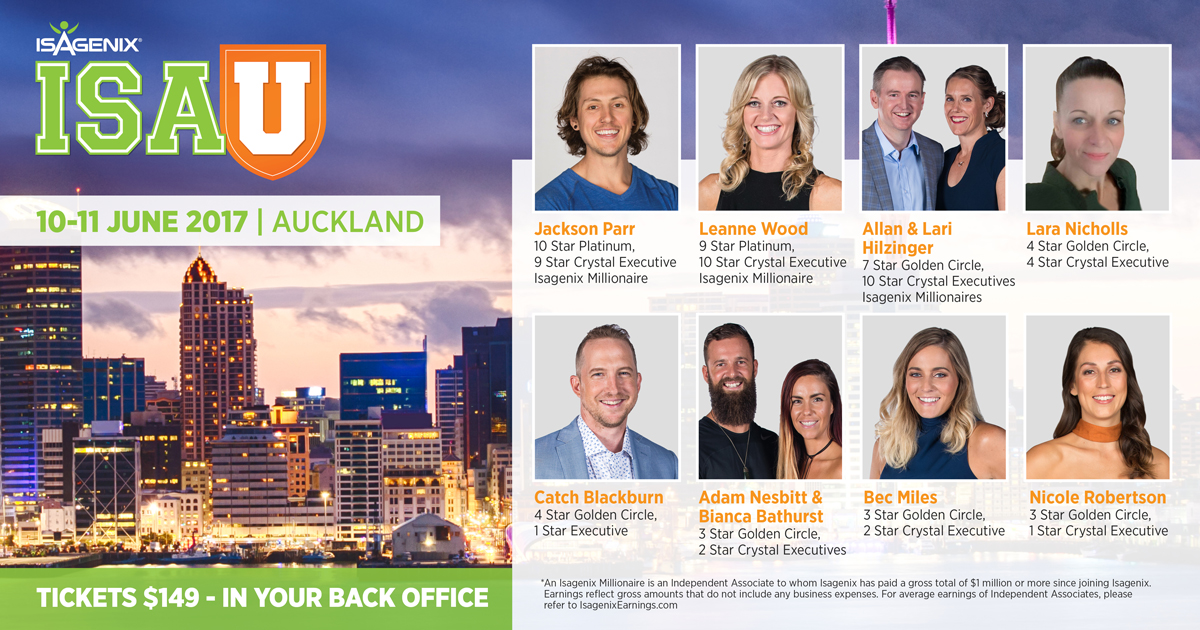 Are you ready for IsaU Auckland? The only IsaU hosted in New Zealand for 2017, tickets are selling fast and it's no surprise why. With two days of inspiring success stories and premium training from Top Leaders, you don't want to miss this – it's going to be sweet as bro!
Our jam-packed agenda will have you leaving the event fully equipped, bursting with belief and ready to take your Isagenix business to the next level.
The important details
When
Saturday 10 June
Registration: 7:00am – 4:00pm
General Session: 9:00am – 5:00pm
Sunday 11 June
Registration: 8:00am – 12:00pm
General Session: 9:00am – 5:30pm
Where
Aotea Centre
50 Mayoral Drive, Auckland
1010, New Zealand
Why you need to be there
IsaU Auckland is your chance to receive exclusive training on how to grow your Isagenix business. Gather your fellow team members to attend together or bring someone new to experience the excitement and culture that surrounds Isagenix.
You won't want to miss out on the invaluable knowledge provided by our amazing speakers. Check out the lineup we've got planned:
Jackson Parr – Isagenix Millionaire*, 10 Star Platinum, 9 Star Crystal Executive
Leanne Wood – Isagenix Millionaire, 9 Star Platinum, 10 Star Crystal Executive
Allan and Lari Hilzinger – Isagenix Millionaires, 7 Star Golden Circle, 10 Star Crystal Executives
Lara Nicholls – 4 Star Golden Circle, 4 Star Crystal Executive
Emma Makila – 4 Star Golden Circle, 2 Star Crystal Executive
Gabrielle Deane – 4 Star Golden Circle, 2 Star Crystal Executive
Catch Blackburn – 4 Star Golden Circle, 1 Star Executive
Josh Dean Freeman – 3 Star Golden Circle, 2 Star Crystal Executive
Adam Nesbitt and Bianca Bathurst – 3 Star Golden Circle, 2 Star Crystal Executives
Bec Miles – 3 Star Golden Circle, 2 Star Crystal Executive
Nicole Robinson – 3 Star Golden Circle, 1 Star Crystal Executive
Sandra Castle-Dodson – 3 Star Golden Circle, 1 Star Crystal Executive
Brendan De Salis – 3 Star Golden Circle, 1 Star Crystal Executive
Sarah McMinn – 2 Star Golden Circle, Crystal Executive
With such an incredible lineup of speakers, you'll definitely work up an appetite. Embrace the Isagenix products and get a boost of energy at the Singles Bar! With a wide range of delicious, individual items available for purchase, you'll be revived and ready to power through the weekend.
Ready to transform your life? Why not stop by the IsaBody Challenge® stand and visit our 2016 IsaBody Challenge Grand Prize Winner, Sarah McMinn. Hear how she smashed her challenge and took home the pirze and then register yourself and your team for the Challenge!
A glance at what you will take away
Isagenix product training
Developing your 'Why'
90-Day Acton Plan training
Talking to the people you find
Developing your story
Connecting via social media and face to face
You Share, They Share, Repeat
The Compensation Plan
Launch parties
Developing leaders
If you're eager to take your business to new heights, this is the event for you. Tickets are available to purchase through your Back Office but get in quick before they're all gone!
Looking for accommodation in Auckland? You're in luck! Book through Ozzacom to take advantage of exclusive deals for IsaU Auckland attendees only.
Keen to volunteer? Join our Green Army!
Have you volunteered at an Isagenix corporate event before? If you have, you'll know how much fun they are – an opportunity to plug in, connect, get a back-stage look and receive a range of Isagenix goodies – If you haven't, we'd love to have you and if you have well then you know you're keen to experience all the fun, laughter and learning again!
Visit the Volunteer tab on Isagenix ANZ events website to complete a short form to apply for a volunteering position.
*Isagenix Millionaires are defined as Isagenix Associates who have cumulatively earned $1 million or more with Isagenix. Earning levels for Isagenix Independent Associates that appear in this publication are examples and should not be construed as typical or average. Income level achievements are dependent upon the individual Associate's business skills, personal ambition, time, commitment, activity, and demographic factors. For average earnings, see the Isagenix Independent Associate Earnings Statement found at IsagenixEarnings.com.