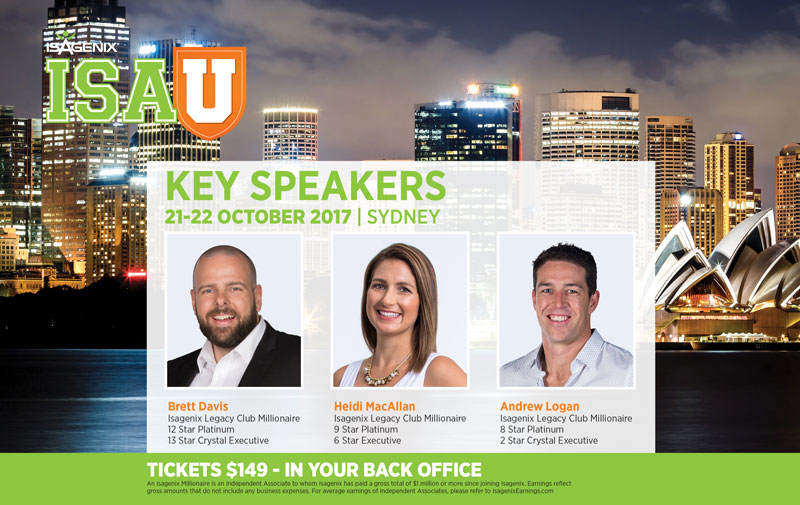 Earlier this month, we wrapped up a momentous Summer Kick Off in Brisbane that launched attendees into serious action for summer. Keep the momentum going and take your business up a notch by picking up your ticket to IsaU Sydney. It's no surprise that tickets are selling out fast as everyone is setting themselves up for the most successful end of year yet.
Here's the lowdown on everything you need to know.
When
Saturday 21 October
Registration: 8:00am
General Session: 9:00am – 5:30pm
Sunday 22 October
Registration: 8:00am
General Session: 9:00am – 5:30pm
Where
InterContinental Sydney Double Bay
33 Cross St, Sydney NSW 2028
Why you need to be there
We've pulled together a lineup of Platinums to share their tried and true tips and tricks at IsaU Sydney!
Brett Davis – Isagenix Millionaire*, 12 Star Platinum, 13 Star Crystal Executive
Heidi MacAllan, Isagenix Millionaire, 9 Star Platinum, 6 Star Executive
Andrew Logan, Isagenix Millionaire, 8 Star Platinum, 2 Star Executive
What a lineup, right? Our speakers will go into depth on need-to-know topics such as:
–          How to develop your story
–          How to connect and create your list
–          How to leverage Sales Programs and Promotions
–          The core Isagenix products
–          How to share Isagenix
–          The Compensation Plan
AND we'll be finishing up the weekend with an exclusive Leadership Panel featuring the keynote speakers!
Grow your business and delve into the Isagenix culture. Limited tickets are available to purchase, so visit the ANZ.IsagenixEvents.com website to grab some for yourself and your team. Whilst you're there, you can also check out some awesome accommodation deals exclusive to IsaU Sydney attendees.
*Isagenix Millionaires are defined as Isagenix Associates who have cumulatively earned $1 million or more with Isagenix. Earning levels for Isagenix Independent Associates that appear in this publication are examples and should not be construed as typical or average. Income level achievements are dependent upon the individual Associate's business skills, personal ambition, time, commitment, activity, and demographic factors. For average earnings, see the Isagenix Independent Associate Earnings Statement found at IsagenixEarnings.com.