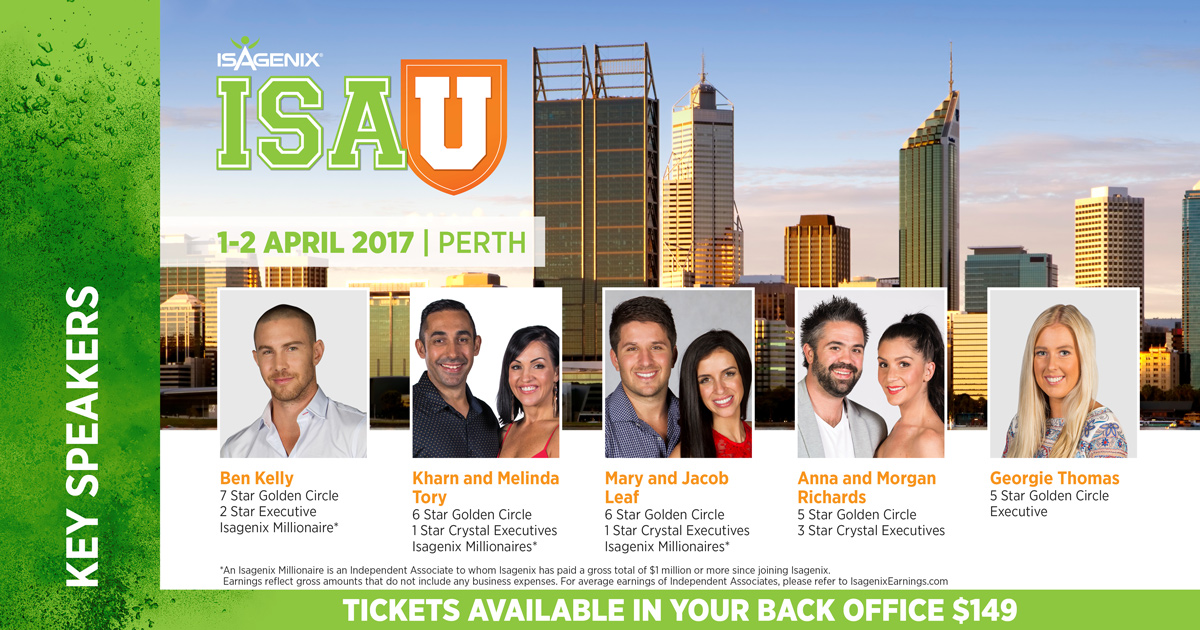 If you haven't got your tickets to IsaU Perth yet you better get in quick! You won't want to miss out on two days of power training with amazing speakers, inspiring success stories and exclusive product and business training.
Our jam-packed agenda will have you leaving the event fully equipped to take your business to the next level.
When
Saturday 1 April – Sunday 2 April 2017
9:00am – 5:00pm

Where
Rendezvous Hotel
148 The Esplanade, Scarborough
Perth, Western Australia, 6019
Why you need to be there
Motivate your mind, expand your awareness, hear some incredible stories and engage with our key note speakers:
Ben Kelly – Isagenix Millionaire*, 7 Star Golden circle, 2 Star Executive
Kharn and Melinda Tory – Isagenix Millionaires, 6 Star Golden Circle, 1 Star Crystal Executive
Mary and Jacob Leaf – Isagenix Millionaires, 6 Star Golden Circle, 1 Star Crystal Executive
Anna and Morgan Richards – 5 Star Golden Circle, 3 Star Crystal Executive
Georgie Thomas – 5 Star Golden Circle, Executive
A glance at what you will take away
Isagenix product training
Developing your 'Why'
Talking to the people you find
Connecting via social media and face to face
How to follow up with your people and get them started
Supporting your people
Building belief
Bringing people to events
Prepare to take your business and life to a whole new level. Tickets are still available to purchase through your Back Office!
Need accommodation? Book through Ozzacom to take advantage of our group rates – exclusive to all IsaU Perth attendees.
*Isagenix Millionaires are defined as Isagenix Associates who have cumulatively earned $1 million or more with Isagenix. Earning levels for Isagenix Independent Associates that appear in this publication are examples and should not be construed as typical or average. Income level achievements are dependent upon the individual Associate's business skills, personal ambition, time, commitment, activity, and demographic factors. For average earnings, see the Isagenix Independent Associate Earnings Statement found at IsagenixEarnings.com.