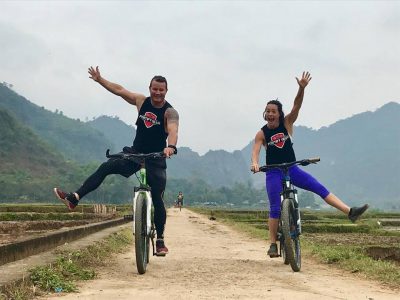 Working high up on the corporate ladder for almost two decades will drain even the most motivated and energetic people in the world. Jason Banks spent a large part of his career in senior positions, which included being the Australian and New Zealand safety and wellness manager for Bunnings.
12-hour days, frequent travel and his phone always within reach, Jason decided enough was enough. He wanted 12 months to himself before deciding his new career path.
While on a soul-searching trip through Vietnam with his wife Larissa, Jason discovered that his values and passions aligned perfectly with Isagenix®. "Working in a health and safety role, co-owning a gym and being a CrossFit competitor made me realise that I've got a strong passion for helping others physically and financially as well."
Despite regularly competing with Isagenix leader Scott Wood for almost four years, Jason had no idea what he did for a living. That was until the two finally discussed the opportunity of Isagenix for the first time.
Once he realised the potential of building an Isagenix business, Jason studied the Back Office, searched through the business tools, learnt how the comp plan worked and researched the products the best he could. He knew how important it was to understand and fall in love with the products himself.
"My wife and I focus all our attention on creating a complete experience with welcome emails, weekly catch-ups and knowing things like when their first Cleanse Day is," Jason says. "That's been our mantra from the start. It's the best way to help people fall in love with the products."
Jason has the numbers to back him up! In just six months Jason has rank advanced to the highest level in Isagenix, Crystal Executive, despite having only personally enrolled just 29 people. Excellent customer experience is just one of many business strategies that have catapulted the Banks couple up the ranks.
"We're always looking for ways to add value to our team," says Jason. "Playing in the Manager and Director pools allows us to incentivise our team with tickets to events that will help them grow."
What was supposed to be a one-year sabbatical turned into a profitable business that the couple plan to grow even further into the future.
"No doubt one of our goals is to create consistent residual income to be able to enjoy the finer things in life," says Jason. "But the first and ultimate goal is to impact as many lives we possibly can through health, which Isagenix gives us the opportunity to do."