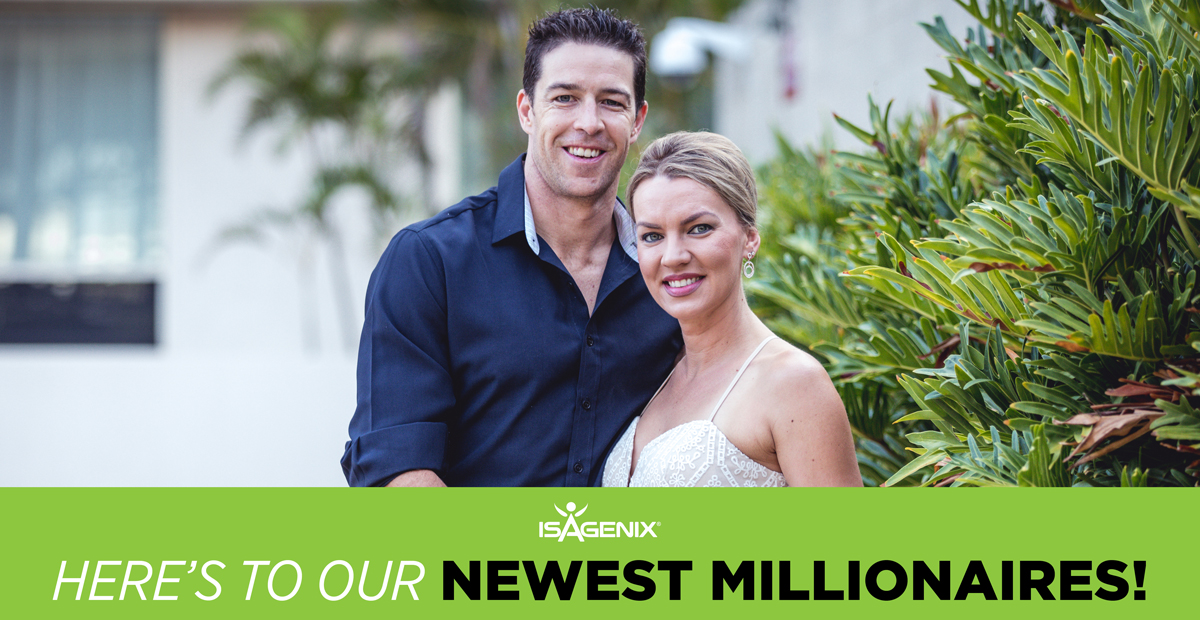 Congratulations to our newest Isagenix Millionaires, Andrew and Angela Logan, No. 26 in ANZ and No. 223 globally.
As small business owners, Andrew and Angela Logan knew what it meant to make sacrifices. With Andrew working from the early morning until the late evening in his physiotherapy practice and Angela working full-time at a local hospital, the parents-of-one, struggled to connect as a family. Growing their family was at the forefront of their minds but with their clashing work schedules and limited family time, they questioned whether they'd ever be able to make their shared dream a reality.
Taking a chance
As a physiotherapist, Andrew believed he knew all there was to know about health and wellness but even though he was doing his best to keep a balanced diet and regular exercise regime, Andrew was frustrated with his lack of results. "I was putting significant effort into training and eating well but wasn't seeing the results I expected," shares Andrew. "I was so time-poor and knew that I needed to make my limited time in the gym work for me. I also wanted to lose those last stubborn 5 kgs for our wedding so I was determined."
Sharing his desire to get in better shape for his wedding, Andrew was introduced to the Isagenix® system by fellow Isagenix Millionaires*, 14 Star Platinum, 15 Star Crystal Executives, Jen and Jono Patch. Despite wanting to get into better shape, Andrew was reluctant to use the Isagenix system. "Jen and Jono had discussed the products with me about six months beforehand and I told them I wasn't interested," says Andrew. "I had a professional skepticism of the products. Jen and Jono were experiencing great results but I just didn't think Isagenix was for me." Continuing his diet and workout regime, Andrew still wasn't receiving the results he was after. He decided he needed to try something different so he took the leap, accepting Jen and Jono's advice to try the Isagenix system.
It didn't take long for Andrew to feel results. "I had an amazing product experience," shares Andrew. "I had the energy to lift more in the gym, run faster, wake up feeling refreshed instead of tired and get through my long work day at the practice easier. I was able to come home and spend time with my family instead of falling asleep on the couch."
The results Andrew received became a talking point between friends and family, with many interested in improving their health and energy, including Angie. "Prior to meeting Andrew I was a single mother so exercise wasn't a priority in my life," shares Angie. "Being naturally slim, I didn't think Isagenix was for me. I assumed it was simply a weight loss solution until I noticed Andrew's deep sleeps and increase in energy. As a poor sleeper with low energy, I decided to give the products a try too."
Getting into action
It wasn't long before Andrew and Angie were surprised by the extra income they were earning as a result of sharing the products they'd grown to love so much. "We loved the products and organically wanted to share them; the Compensation Plan was nothing more than an added bonus," says Angie. "When we realised how an Isagenix business could change our lives and the lives of those around us, we decided to get into action and focus on attending as many events as possible to help us grow as leaders. We wanted to learn more about the nutrition side of the products as well so that we could further educate people as to what makes the products so great."
As their business began to grow, the couple soon realised that Isagenix could be the answer to their time flexibility concerns. "Our 'why' started off with a desire to have another child and allow me to be at home full-time," shares Angie. "Then, as our business grew, our vision and our 'why' expanded. Eventually Andrew was able to slowly cut back his hours at the practice and eventually stop working as a physiotherapist altogether to focus on building our business and helping other families."
It'd be easy to believe that the 8 Star Platinum, 2 Star Executives had a knack for leadership but both Andrew and Angie admit this wasn't the case. "We weren't natural born leaders by any means," says Andrew. "We began attending corporate events as a way to learn more about the products and were pleasantly surprised when we'd walk away with endless pages filled with notes on personal development and how to be a better leader. Events changed everything for us. We built our belief in not only the company but also in our ability to help others."
When asked how they achieved their success, both Andrew and Angie echo the words 'duplication' and 'consistency'. Both avid believers of the tools and systems in place, they encourage their team to follow in the footsteps of leaders before them. "The formula is there already and the path has been established," says Andrew. "The products and results speak for themselves. Be passionate about changing lives, be consistent and do the basics every day."
Hitting milestones
This year has been a whirlwind so far for our newest Isagenix Millionaires, with Andrew and Angie also hitting the rank of Platinum before Celebration in March. Their business growth has been extraordinary but the pair admit it hasn't been without sacrifice and persistence. "We made plenty of mistakes when we started business building," says Andrew. "We did our best to learn from those mistakes and utilise our time as effectively as possible. We further sacrificed time with each other as a family but thanks to the Isagenix Compensation Plan, we knew that the sacrifice we made now would mean we'd have the flexibility to both be at-home parents in the near future."
With numerous successes and accolades under their belt, the now parents-of-two retain their humble nature, never losing sight of their vision – to help families. "Having the chance to be at home with our children and watch them grow is incredible," shares Angie. "I know I'll never miss a football game, I'll never miss a school event or any other milestone. We have always wanted to be parents first and now we don't need to choose between being great parents or being successful in our work because of the flexibility that a home-based business can offer. We want this for all families."
Not one to rest on their laurels, the power pair still regularly set small goals as a way to achieve their larger goals. "This is just the beginning for us," says Andrew. "We are living a life we never thought was possible. Having the ability to work our business from home and help people achieve their goals while still being able to be hands-on parents is a dream come true. We will continue to share Isagenix with as many people as possible so they, too, can experience the gratitude we feel every day."
*Isagenix Millionaires are defined as Isagenix Associates who have cumulatively earned $1 million or more with Isagenix. Earning levels for Isagenix Independent Associates that appear in this publication are examples and should not be construed as typical or average. Income level achievements are dependent upon the individual Associate's business skills, personal ambition, time, commitment, activity, and demographic factors. For average earnings, see the Isagenix Independent Associate Earnings Statement found at IsagenixEarnings.com.
The statements appearing on this website have not been evaluated by the Therapeutic Goods Administration. These products are not intended to diagnose, treat, cure or prevent any disease.