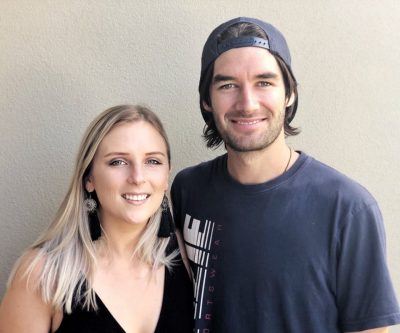 Kiwis are absolutely killing it in the world of Isagenix®! From our very first New Zealand IsaBody Challenge® Grand Prize Winner to our first Legacy Club Millionaire, they continue to inspire the next generation of New Zealand entrepreneurs.
These leaders have certainly inspired young Kiwi couple Bryce and Brydie McKenzie to new heights. After seeing photos of Sarah Berry and Josh Carder living it up Bali, they were keen to follow in their footsteps.
"I feel like we were really coachable because whatever they said, we did," Brydie says. "Half the time now we don't really know what we're doing, but that's the beauty of it, we don't have to be experts."
With Bryce working full-time as an electrician and Brydie studying Early Childhood Education at university, the couple were set to follow a well-trodden life path. While they've broken away from the norm, they applied their knowledge of traditional business when they started Isagenix.
"I came into this with the apprenticeship mindset, that it'd take me four years to learn the basics," Bryce says. "I know that I made a few mistakes during my apprenticeship and it's the same thing with network marketing. You're going to have to learn the skills required but they're going to take time."
When you're working and studying full-time, time is a precious commodity. Growing their business to become Executives has given Brydie and Bryce the freedom to work part-time and the chance to spend more time together and follow their passion.
"At the moment we're focused on building our business as well as travelling around our own backyard in New Zealand," Brydie says. "We don't have a huge desire to go overseas, it's more about seeing every nook and cranny here."
Travelling around New Zealand wasn't their initial goal; they started small, aiming to earn enough to pay for their monthly product order, so they could "feel great all the time". After attending Isagenix events and experiencing the community's energy, they started to dream big and began to relieve themselves from the one testing element of their relationship, financial stress.
"The most important piece of advice for me is that you have to do personal development," Bryce explains. "If the person you are now hasn't gotten you to where you want to be, then you have to change. Personal development helps you work out the obstacles that you need to overcome."
On the other hand, Brydie believes that finding your identity in this industry is one key to success. "We focused a lot on other people when we first started which kind of stunted our growth a little," she says. "When focused on our own lane, that's when things started taking shape and moving forward."